Name: Tabor Whitney
From: Eugene, OR
Grade: College Freshman
School: University of Oregon
Votes: 32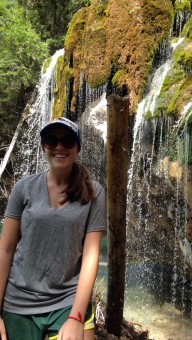 Tabor
Whitney
Youth
Forward Scholarship
May 1,
2016

In 8th grade I was blessed with a wonderful opportunity to
travel to Cambodia and engage in a life changing experience as I
volunteered at one of the many orphanages that exist in this amazing
countryside. This experience completely changed my outlook on life
and fostered a newfound passion. My love for volunteering started at
a young age, but it was mostly through local charities and
opportunities that were in my own back yard. This trip exposed me to
the true definition of volunteering and made me redefine my purpose
for volunteering. Since that trip six years ago, I have developed my
own organization, Change for Children, which has given other teens
the opportunity to engage in the same remarkable experience that I
had in 8th grade. Although I have not been able to be a
part of each trip that my organization has sponsored, each trip only
solidifies my commitment to continue my volunteer work. I have
committed well over 100 hours during each of my visits to this
wonderful country and plan to commit many more over the next several
years.
Days in Cambodia are busy from the moment we wake up until we fall into
our hot room at night. We have many goals while we are there from
teaching English, to personal hygiene, to engaging in projects that
give these young children a safe place to live. Although all of these
goals are important, our biggest goal while we are there is to just
spend time with the kids, love on them, feed them, pray with them,
and let them know that someone loves them.
One of the most valuable lessons I have learned through volunteering is
the value of persevering. We all have to work hard under some
conditions that are less than desirable to finish projects around
their house so the kids can have a safer and healthier home. A
perfect example is during our trip this past summer when we rebuilt a
roof in blazing heat and humidity so that when the rainy season came
the children could stay dry. The days were so hot and so
uncomfortable but the end result was well worth it. When we left
these children, we knew they would be safe from any conditions that
may come their way and would be able to get a good nights sleep
instead of trying to all crouch in a corner to stay out of the rain.
Volunteering comes with its challenges for sure. Being the founder of an
organization requires a lot of planning for each trip that is taken.
I have been blessed to meet so many amazing people, so organizing
volunteer work isn't the tough part anymore, but raising money is
always a challenge. Raising money isn't easy work since we are not
a non-profit yet, and it takes a lot more than people would think to
reach our goal. Most of the orphanages we work in can have up to 25
kids or more and their needs are vast. They are happy with the
smallest tokens, but the big projects can cost a lot. Fundraising and
the marketing it takes to do that has always been a challenge, but we
keep on pushing through and don't give up. Another challenge I
faced more at the beginning of my visits to Cambodia but comes with
each new group of children we meet is adjusting to culture. The
people around me and within the orphanage view life in a different
way and it takes time to adjust. It is emotionally and physically
draining to try and relate to the children on a deeper level when
your customs and language are entirely different. With this huge
challenge comes the greatest satisfaction in volunteering abroad; the
new view about the world we live in that I discover with each trip I
take. I have developed some of the deepest relationships with
children that don't speak my language all through unconditional
love and just simply smiling and hugging them. Leaving is so hard but
so rewarding because I know how happy and grateful the children are
for what we did.
Volunteering abroad has shifted my view on life completely and has helped guide me
as I decide on a future career. I am currently a Biology major at the
University of Oregon and I am hoping to use the knowledge I gain
through my studies in sustainability to travel abroad and teach
families how to create a sustainable lifestyle for themselves. My
career goal is to be able to travel and help less developed countries
with simple ways to stay green, develop effective agricultural
techniques, and utilize natural resources. When I look to the future
I am concerned at the lack of knowledge we have in our own country
about how to engage in sustainable practices. I currently work in the
sustainability field on campus and am spreading my passion for saving
our environment in my day-to-day work. Act locally and think globally
is my mantra and educating other countries will hopefully help create
an environment that can sustain our future generations.
One of my heroes, Jane Goodall, is constantly reminding us that we are
engaging in an unsustainable lifestyle. Greed, money, and
overpopulation are ruining the world in which we live. My hope is to
remind people that living a simple life can make a difference, but we
have to clean up our world and use non-renewable resources to save
future generations. This forward thinking or forward looking
mentality will help us create a world where the simple things in
life, like creating safe drinking water, recycling our trash, and
understanding how to maximize our resources will become a way of life
and not a novel idea.
Volunteering has given me a chance to develop my lifelong personal and career
goal. I feel so lucky to be able to bring people from different
cultures together and create life long relationships with people
across the globe. I do believe that my volunteer work will make a
difference in ten, twenty, thirty years because not only has my
organization changed the life of many teens that have traveled with
us to Cambodia, but I know my organization has changed the life of
many orphans that we still keep in touch with today. I also believe
that in ten years or less, I will be changing many people's lives
because I will not only be teaching them about hygiene and building a
roof to put over their head, I will be educating them about ways to
clean up their streets, their water, and their environment so they
are able to continue to support future generations. Teaching the
children at the orphanage gives them the ability to pass on their
knowledge to others. Once a community starts acting in certain ways,
other communities want to join in until an entire province, country,
and continent views sustainability as a part of life. I know my work
so far has touched the lives of so many children, and although I have
not yet accomplished the difference I want to make with furthering my
volunteer work with sustainability, I know that day will come. I have
allowed volunteers to see a developing nation and what struggle truly
looks like and I have been able to show those struggling children
hope by reminding them they can accomplish anything they want to.
This line of volunteer work has made the biggest difference in my
life and fostered a new passion that has helped shape all of my
future goals.