Name: Emily Boismier
From: Excelsior, MN
Grade: Sophomore, 10th grade
School: Minnetonka High School
Votes: 0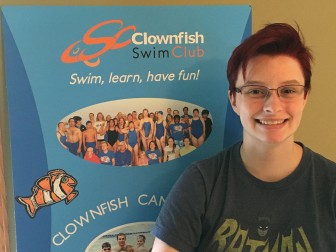 The world of today carries a burden made up of all the problems humanity faces: sadness, hate,
hopelessness. These problems creep around our lives, plaguing us and inhibiting us. They twist between our legs as we try to walk and fill our lungs as we try to breathe.
While this can feel overwhelming and unsolvable, big problems start with little solutions. Each person has a sphere of influence and can improve the lives of those around them. There are two ways to go about this: small and spontaneous acts of kindness, and larger efforts of charity. A small act of kindness can be a simple smile, a 'hello',
while a larger act can be volunteering.
I have volunteered with Clownfish Swim Club, of which my sister is a member. Their aim is to
provide a swim team environment for disabled youths. In this club, I
work alongside children and young adults with disabilities ranging
from moderate to severe: some members can barely speak or walk, while
others can function well on their own. My duties in this club are
coaching, keeping everyone on task, and helping maintain a safe and
positive atmosphere. Here, as a former competitive swimmer, I can do
more than encourage them: I can coach them. It has been and shall
continue to be rewarding to see members blossom and watch their
confidence grow. As of now, I have logged approximately fifteen hours
in the club, with more to come.
My
greatest challenge in this club has been seeing the unfortunate souls
who have been given the short straw in life. Though our club helps
them, it will be very difficult, nay impossible, for them to live
their lives without a trace of hate or conflict. This pains me, but
it also inspires me to work even harder for them.

I know that my efforts have made a difference. Our club has seen the
transition of a boy who would not speak or interact with anyone, not
even his own family members. But because of his parents' and our
support, he opened up to us and transformed into the man he is today.
Right now, he attends a state university for music. Without our
services and his wonderful family, he may not have been so
successful.
Because of my personal experience with disability and how it affects people,
I am now aiming for a career in the field of neuroscience. This
interest was sparked from my time at Clownfish, as well as my
lifelong commitment towards my sister, who is autistic, and my own
mental disabilities: major depression and anxiety. I have found that
helping others is key to helping oneself, and in the future I wish to
continue my work in this club and study the human mind.
It's true that the world
is imperfect. In truth, it's full of problems. However, many of
them can be eased with just a little effort and time. Together, we
can continue taking steps towards a brighter future.