Name: Brandie Young
From: Ashburn, Virginia
Grade: brandieyoung98@gmail.com
School: brandieyoung98@gmail.com
Votes: 17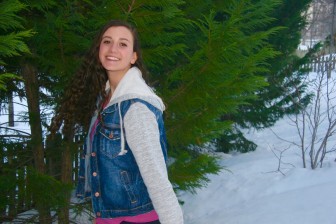 The elderly lady bundled in her worn winter coat, pushing the shopping cart filled to the brim with a pile of Fisher-Price and Hasbro-labeled goodies, turned to me, her eyes twinkling, and spoke in a soft voice, "Thank you." I grinned in response and a firework celebration lit up my heart and a warm sensation overcame me. Working at the Loudoun "Neighbors Helping Neighbors" holiday coalition, helping the parents of lower-income families pick out donated toys for their children, in the middle of that frigid December, I had never felt so warm.
It was at that moment I had discovered my love for volunteering. My life was never the same. Since then I've sought out opportunities to help others as much as I can; I joined Key Club, National Honors Society, Science
National Honor Society, my church nursery staff, helped plan a blood drive, organized a bake sale for education in developing countries with other passionate people in my English class, created birthday
cards for homeless children, and even helped my chemistry teacher as a sort of informal teacher's assistant, among other things. On average, I volunteer about four hours a week, balancing this with playing club and school soccer. My love for volunteering comes from the warm feeling I get inside knowing that my actions have positively
impacted others. The greatest challenge I've faced as a volunteer has been to put others before myself. I sometimes struggle with donating hundreds of my hours and dollars towards helping the plight of others. However, seeing the direct results of my actions is often the most rewarding experience one can have, I know from experience. Through volunteering I've obtained not only valuable workplace skills and experience, but also learned how much a difference I can make in other peoples' lives and how important it is to do so when possible.
I hope to win scholarship money so that I may attend a prominent university and
gain my Computer Science degree. With this degree, I hope to even better serve my community with my newfound skills and the influence in the job I strive to get after. Even with money and influence I
can't hope to change the world. But even to change the world for just one person in a situation not as fortunate as mine, would mean the world to me.