Name: Kendall Chavarria
From: Punta Gorda, Fl
Grade: 12
School: Charlotte High
Votes: 36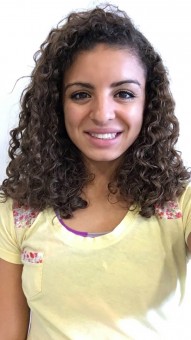 Older Impact
Volunteering in an Assisted Living Facility is important to me in
more ways than one. Three years ago, we placed my great-grandmother,
who suffers from Alzheimer's disease, in an assisted living
facility because my mother could no longer care for her on her own.
Not only was it a heartbreaking experience for her, but it was also
for me because I knew how much my daily life was going to change. I
was used to seeing her every day, cooking with her, and just talking
to her at home. After she moved, I knew I didn't want any of that
to change. Her new home was not far from my school, so I decided that
I would still see her every day. I spoke with the Director of her
facility and set up a schedule where I could volunteer each day after
school or on weekends, whether it was for an hour or for the day. Not
only was it a good way for me to see my grandmother each day, but it
also allowed me to get to know her new friends. The biggest reward
was seeing the look on their faces when I arrived. Many of them had
no family and I became that to them. The most challenging part of
volunteering was when I would go in and realize that one of those
smiling faces was missing, they had passed away. Even after the
emotions overcame me, I knew I had made a difference in their life,
even if it was just for a moment while we were playing games, or
enjoying crafts together. I am headed off to college in a few months
and intend to see my grandmother and her friends each day until I
leave. Forward looking, I intend to write to my new friends each week
and visit every chance I get. I have set up a new volunteer to take
my place on a daily basis, my sister. I will find another facility to
volunteer at while I'm in college, and I am sure I will love the
population the same, but nothing can compare to my first experience
with my grandmother's group. The elderly population is often
forgotten by the younger generation, through my volunteerism, I
intend to make sure that never happens on my watch. I'm not sure
that by volunteering here makes a difference for the future, it makes
a difference for the present to these elderly men and women that I
like to call family. However, the impact that this particular
volunteer service has made on me will be cherished for my entire
lifetime.