Name: Olivia Olverson
From: Fayetteville, GA
Grade: Sophomore
School: Tuskegee University
Votes: 11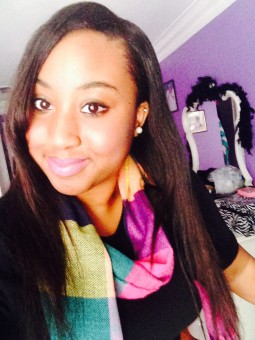 Last summer I volunteered as a youth volunteer at Fayette Piedmont Hospital accommodating the needs of patients. "Do I really have to get up this early on Saturday mornings?" I asked myself as I tried to cover my eyes from the blazing sun that peered in from my bedroom window. "Yes" I told myself because today I was going to help
make a change in someone's life. I prepared and delivered meal trays to patients all over the hospital.  It warmed my heart to the smiles on their faces as we engaged in conversation when I delivered their meals. I was filled with a passion to reach out to them. Service appeals to me because I like giving back to my community and making a difference in the lives of others to create a positive environment for society.
From a very early age my mother raised my siblings and I in being a vital
part of our community. By being a member of Key Club, National Honor Society, P.A.L.S and a youth member of the NAACP, I was always dedicated to giving back to my community through service. I am also a member of the homeless and feeding ministry at my church 'Fountain of Faith Baptist Church'. In this ministry we arrive at the church annex building on Saturday mornings where we prepare the meals and package them up to be loaded on the van. We then go all over Atlanta to gas stations, bridges, homeless shelters and also assisted living centers to give out the food and engage in scripture readings and prayer. It is really a great feeling to know that you can administer hope to another person who was on the verge of starving. I am currently involved with this ministry to this day and I am an upcoming junior at Tuskegee University. I started participating in this ministry in 2014 and I
plan on being involved with it in the future. I volunteer four hours a week with this ministry.
To whom much is given, much is expected. I strongly believe in this quote because when you are genuinely willing to help others, you will be rewarded in return from your good deeds. That is why I chose Occupational Therapy as a major because it is very rewarding. I have big dreams and I am on a path to success. This summer I volunteer at a local orthopedic clinic in my hometown to gain some experience in my field. I really enjoy working with other people and learning new experiences from being around patients. Forward looking or looking towards the future to me means how I will impact another person's life down the road. I believe that education is the key to success and I would like to be able to continue my education so that I can succeed in life and I can be able to give back to my community and the world by sharing my talents.