Name: Grace Nicole Floring
From: Delaware, Ohio
Grade: 11
School: Rutherford B. Hayes High School
Votes: 167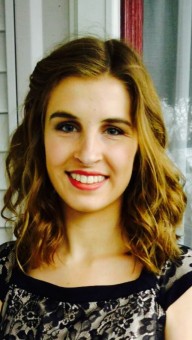 The orchestra program in Delaware City Schools is a passion for me,
having played the violin for eight years. I have seen students drop
out when it starts to get difficult. I believe lack of practice is
the biggest reason kids fall behind in their skills, get frustrated
and think they are not good enough to continue with orchestra. I
created the Orchestra Mentoring Program to provide an opportunity for
younger students to attend Open Practice Sessions twice per month.
They could come practice their own music in a fun environment
alongside an experienced high school orchestra student in small
groups. During the last two years, my responsibilities included
recruiting high school volunteers to be mentors, coordinating with
the school orchestra directors, reserving rooms, and communicating
with students and parents to encourage participation. During these
two years, I logged over 80 hours in volunteer activity toward this
program. My responsibilities going into my senior year will include
coaching two underclassmen to continue the program after I graduate.
The biggest challenge and what I have learned about being a successful
volunteer is the importance of communication. With hundreds of
possible participants, and so many different ways people prefer their
communication, I had to utilize all my resources to make sure no one
was left out, everyone felt appreciated, and that I had enough
volunteers each week to have a successful session.
The success stories provided the most satisfaction. I knew the program
was going well because students kept returning. However, I wanted to
get actual feedback from parents. So I created a survey. One parent
wrote that her child was planning on dropping orchestra before my
mentoring program. But after attending, she decided to stick with it.
This confirmed that this effort was worth it. I believe that many
years from now, students who stayed in orchestra because of the
program I created will have gained an appreciation not only of music,
but of the satisfaction of knowing that they can overcome challenges.
For my future, I believe what I have learned from this experience will be
extremely helpful in any path I choose. I plan on attending college
to study aerospace engineering. I know that I can identify a need in
the community and have the skills to jump in and make a difference,
no matter where I live or where I work. I also hope that a big change
I have fostered is planting the seed of volunteerism in the minds of
the high school mentors I recruited, that they also can make a
difference in their paths.
Forward looking to me means helping others learn what you know. Giving back
is what moves us upward. My 12 year involvement with Girl Scouts has
really reinforced the value of learning from those who have come
before you, then turning around and teaching those behind you. I am
honored to say that I earned the highest achievement in Girl
Scouting, the Gold Award, for my Orchestra Mentoring Program.