Name: Justine santos
From: covina, California
Grade: 12
School: Charter Oak High School
Votes: 0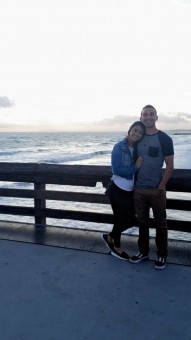 Finding your passion or sport is hard when you are a little kid. Especially,
if you are shy and still hold tight ly to mom and dad. I know from
experience, when my mom made the action of signing me up for the
local volleyball league, GYV. At the time I was in second grade and I
was terrified. Today I am a senior in high school and have dedicated
my time to ten years of volleyball, including a year in club and 2
years as a captain of my high school varsity volleyball team.
Developing this passion has lead me to pass on the experience and
characteristics earned from this sport.
For the past two years I have brought my knowledge as an avid volleyball
libero to teenages girls from seventh to twelvth grade. I decided to
volunteer my time where I fell in love with the competitiveness and
team work of volleyball, GYV. This is because I want to be able to
inspire girls who were just like me and find them their passion.
Once, you find what you are best at and confident in, no one can take
that away from you and it makes you see what you are capable of.
As a volunteer at this organization you must devote an hour of practice
during the week, two hours containing game preparation and the game,
for eight weeks. The season for Glendora Youth Volleyball is held
from the beginning of January to the end of February. As a coach I
have been challenged greatly with patience and that is okay. It has
taught me why my coach acted the way she did, but as a player I
understand these girls' attitudes and weaknesses. I have also learned
every player has their own approach and though it may not be the one
in the books, it is the one that works best for them and for the
game.
I believe physical activity in general works hand in hand with the
career I am pursuing. I am going into Cal Poly Pomona as a Foods and
Nutrition Major with intentions to become a Nutritionist. By
understanding what foods are beneficial for our bodies, I can help
create a healthier player. After earning my degree in this field and
going back to Glendora Youth Volleyball to pass on healthy eating
habits and more volleyball knowledge, I strongly believe one of my
players from thirty years ago is a volunteer coach, finished four
years of high school volleyball, or has earned a scholarship for
their outstanding passion and skill.