Name: Nia N. Miyashiro
From: West Linn, OR
Grade: 12th
School: Nia N. Miyashiro
Votes: 0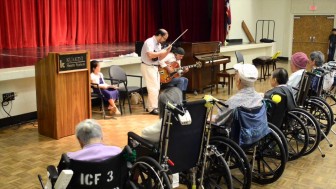 What is the area in which you have chosen to volunteer (e.g.,
homelessness, anti-drunk driving, youth art programs, etc.).? Why
did you choose it?

How many hours per year / week / month have you volunteered?

What are / were your responsibilities as a volunteer?

What has been your biggest challenge as a volunteer?

What has giving you the most satisfaction as a volunteer?

What have you learned from your volunteer position?
How are your interests and career goals in alignment with that volunteer focus, or
perhaps not?
Looking towards the future, how do you see your activities as "forward
looking?" What does "forward looking" mean to you?

What change do you seek to foster in the world via your volunteer
activities?

If you were to come back in ten, twenty, or even thirty, years do you
think your volunteer activities would have "made a difference?"
How so?
Given my interest in pursuing a career in medicine and health care, I spent
last summer in Hawaii volunteering at a hospital's long-term care
unit. I volunteered for 30 hours last summer and plan to double my
hours this summer.
The long-term care unit provides services for the elderly, as well as
therapeutic recreation. I assisted in transports and activity
support, and found it very enlightening to talk with patients about
their lives and with medical staff about patient care.
The biggest challenge I found while volunteering was interacting with the
patients, but I knew that this was something much needed for personal
growth. I am a very shy, introverted person and have struggled
interacting with people. Now, not only did I have to talk with
people, I had to talk to people who were faced with medical and
general physical limitations. I must say that having to communicate
with patients and being responsible for the care of others was
life-changing.
What I found most gratifying was that these individuals looked to me to
help them. I actually felt that I made a difference. Though I did not
play a role in their medical care, I was there to help in their
day-to-day functions and activities, with things that many of us take
for granted.
Not only did this provide a great introduction to a career in medicine,
but this was personally fulfilling and enlightening. I gained an even
greater respect for the elderly and for those who provide their care.
Frankly, it is challenging for both. I shared in the frustration that
the patient feels, as well as the patience required of the caregiver.
By no means did this discourage me from such work. In fact, it only
further validated my decision to pursue medicine and provide people
with much needed health care. Looking forward, I see myself as a
doctor (the first in our family), caring for young and old.
For now, I plan on continuing to volunteer in the health care industry.
Every day spent volunteering, I learn something new….about patient
care….about people…about the value of life….about the
importance of medicine…etc. Most importantly, I see how my time and
those of my peers had a positive impact on the patients we serve. To
be perfectly honest, I feel that the value of time spent volunteering
is not measured by "thank yous" or hours logged. The value
of volunteering is in each act of kindness, each call for help
answered, and the intent to do well and make a positive difference in
the life of someone. I have to believe that this is contagious. Doing
a good deed, lends to another.