Name: Nicholas Quintero
From: Pendleton, INDIANA
Grade: 12th grade
School: Pendleton Heights High School
Votes: 0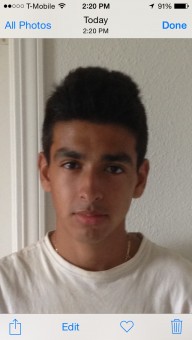 Paying it Forward
Over the past few years I have been very involved in community service.
From doing arts and crafts with the residents at our local retirement
home to passing out food in a small town in Medellin, Colombia.
Volunteering for me has been a very insightful experience that has
taught me the importance of giving, being grateful for what you have,
and having compassion for those less fortunate. I plan to continue
volunteering and giving back to my community for many years to come.
In my opinion, giving of your time and resources is a privilege that is
very rewarding. One of the most exciting and priceless volunteering
experiences I've ever been a part of was when I went to
Colombia.  My family and I joined an organization called
"Semillas de Progreso" (Seeds of Progress) where we donated
clothes and food to a small community up in the mountains. It was
quite an adventure to get there and we had to go through a part of
the city that is highly known for its' gang activity and drug
cartels. It is not uncommon for foreigners to be kidnapped in this
part of town, so we were definitely in a precarious situation
for a period of time but once we made it to our destination it was
totally worth it. We had the opportunity to spend time with the
locals and share a lunch with them. My favorite part was when many of
the locals gathered together to give us a warm "thank you" at the
end of our time together. I enjoyed seeing how genuinely happy and
grateful they were. Not because I need a "thank you" but because
it brings me joy to do something kind for someone else and making
them smile.

Another one of my favorite experiences is volunteering at "Wheeler Mission"
a local men's homeless shelter in downtown Indianapolis.  I've
helped on the food line serving the meals. As the men walk through
the line they will often smile at me and say "God bless you".
Many of these men are impacted by incarceration or have any number of
addictions. This helps to remind me how even when you are going
through difficult times it's important to keep things in perspective.
Most of these men even though they are facing an uphill battle still
manage to stay positive and are genuinely grateful. It is something
that I truly admire. I enjoy making these gentlemen feel
respected and valued. They are usually overlooked when they are
roaming the streets and it's important that they know that there
are people who care about them.
I've also volunteered at "Holy Family Shelter" where we organized
clothes and toiletries for the resident families and at "Big
Brothers Big Sisters of Central Indiana" helping with some of their
events.
In conclusion, each one of these experiences has taught me something
different but in general it has given me a sense of purpose and has
increased my desire to help others.