Name: Savannah R. Robinson
From: Georgetown, Indiana
Grade: 12
School: Willow Creek
Votes: 0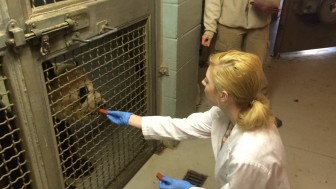 Currently I volunteer 416 hours per year –
mostly at the Louisville Zoo and Kosair Children's Hospital. I
began volunteering at the Louisville Zoo Islands after shadowing in
the animal hospital.
Kosair Children's Hospital (KCH) came to
me in a different route. My mom has had a disease called lupus. There
is currently no cure. Dealing with this at such a young age made me
want better for lupus patients. So I created an event, the Champs
Ball for the ALR in Louisville, KY. Through research for the event
that I stumbled upon the KCH teen board. This lead me to volunteering
in the hospital.
As a KCH Teen Board member you volunteer
for many special events. As a teen hospital volunteer you help clean
play rooms, check on patients and their families, baby sit, and much
more that is extremely rewarding (HIPPA doesn't allow me to share).
Most of all I try to make the hospital a less scary and happier for
the littlest of patients and at some of the worst of times.
Because of patient confidentiality
I can not share some of my biggest challenges. One challenge
has been speaking with people who don't speak English. I
have had to come up with creative ways to communicate. It
really is true that a smile is the same in any language. KCH
has taught me how to think quickly in unusually
circumstances. Last, a heartbreaking challenge for me comes
when I have to go to a class or a commitment and a child is
so sick and starts crying. I want to cry too! But I can't.
I have to smile and encourage them. Leaving, especially when
there is no family, is really tough.

Getting involved at the zoo has taught me
how to protect our Earth. All of the animals in my area are on the
endangered species. Every time I volunteer, they teach me something
new. Orangutans actually share 90 percent of human DNA which means
that this great ape is a lot like us. They have feelings and think
almost just like you. In the future I hope to get a degree in
communication/ zoology –making a lifetime of work based on the
Louisville Zoo's motto: "To better the bond between people and
animals."
In every position, the main duty of the
volunteer is to help the public understand the important role the
animals play in the world as animal ambassadors.
The zoo has taught me that the world is not so big and one
action can really change the world. It has taught me to be smart in
what I shop for because it could contain ingredients such as palm oil
that is killing animals in other countries. In addition, animals can
be smarter than you think.
In either place, I have made friendships that will last a life time. I
have learned that the smallest blessings can come when you least
expect them and people change people.
How are your interests and career
goals in alignment with that volunteer focus, or perhaps not?
In the future I plan on attending Hanover
University for Zoology/Communications. Every bit that I have learned
at the Louisville Zoo will effect me in college and beyond. I feel
that they have given me not only a head start in life, but also a
pricless gift. That gift being with out there influence I would not
be on a life time journey in my field. One day I hope to work for
somewhere like National Georagphic and share with the world just a
tast of what they have given me. No matter where I am in life I want
to be the person that God created me to be. That means being kind and
giving back whenever I can do so. KCH will always be a part of me and
who I am. They have taught me how to be a compatenate and kind
person. They have taught me that there is always a way to help even
when it seems imposible. They have also taught me that communication
does not depend on your language, but your will and kindness breaks
the hardest barriers. Also they have heped to sharpen my business and
board room skills. Success to me is not messured just by where you
are in life, but what you have used it for. Success means to me
creating better futures for others.
Looking towards the future, how do
you see your activities as "forward looking?" What does "forward
looking" mean to you?
Forward looking means to me a well rounded,
inavative and creative person. Working in an area that has great apes
you have to be able to creativily think through problems and
challenge your thinking. There is a saying if a cage is orangutan
proof than it is everything proof. In the same way I hope that my
life will provide creative and inavative solutions and thoughts. In
the same way both KCH and the zoo have interlaped in teaching me.
Both providing me with skills needed to succed in the future. Both
involving science and communication. With in the future I see myself
drawing on my experences and it making me a better person in all and
well rounded. Making me not only survive, but thrive.
What change do you seek to foster in
the world via your volunteer activities?
Change means many things to me. There is so
much that I would love to change in this world. Because of the
knowledge I have gained on things like Palm Oil and other animal
advocays issues I would say that change for me would come in
informing the public about animal rights in other counterys and what
simple steps can be taken that really do change the world. Other
change would be impowering others to do good in there communitys and
how they can be the change. Eventuly because of the impact that Lupus
and auto immune desaes have had in my life I would like to see better
pediatric and rumatology care in the country.
If you were to come back in ten, twenty, or even thirty, years do you
think your volunteer activities would have "made a difference?"
How so?
I have had children ask me how and why I volunteer at the Hospital and
there interest gets peaked in why some one cares to come play with
them. Every time I anser part of me deep down is just hoping that
maybe they them selfs will give back and become volunteers due to me
siting with them. I know it is just a small justure of time, but
people don't relize how much the children just want someone there
to be there for them. To them it is more than just playing a game or
reading a book it is some one loving and caring for them. It is hope
and my hope is that they will pass it on. It is humbling to know that
I am a part of helping some one grow and learn. I have learned from
other people that volunteer that they had someone seat with them
while they where in the hospital and that is why they volunteer. So,
I would hope that in five, ten, fifteen years even more people will
be volunteers.
When I go to the zoo and look at the
elephant expebet for instance it is amazing to think that I was a
part of building that. That as a team we helped fund something that
is sustainable and five, ten, fifteen years from now I can visite the
zoo and still truly see our hard work payed off. It is great to also
see all of the oraguntans and endangered specis and know I was an
important part of keeping them alive and safe when miles away others
are not as fortanat. To think that generations to come will be able
to see these animals, that may of otherwise been extenct. I can
remember going to the zoo when I was little and listening and
learning at every chance I got, I had no clue what thouse crutals
trips really would mean in my future and I think when I see children
visiting that they are having thouse same experences and knowing that
they may never see the zoo again, but the experences that they
encounter could change there life. It changed mine. It is also great
knowing that someone knows the difference between a monkey and a ape.
That fiftey years from now they will have not taught someone that an
orangutan is not amonky , but an ape and that makes me pretty happy.