Name: Kristen Darby
From: Elizabethtown, Kentucky
Grade: 12
School: Central Hardin High School
Votes: 0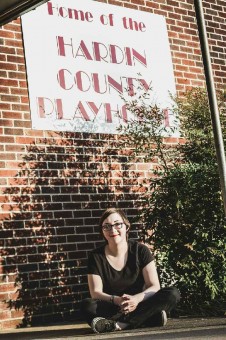 Kristen Darby
Youth Forward 20 March 2016

The Playhouse: Giving Back to the Community
There is no better feeling in the world than when those lights go down, and
the applause starts. The darkness clears into cool blue backstage
lighting, the show is over and there is a palpable thrum of success
in the air. And in the end, you had a huge hand in making that magic
happen.
I volunteer to do that almost daily.
I didn't choose the theater. It found me. I was only fifteen at the
time, and barely so; I was very quiet, not very outgoing. I had
joined my school drama club for something to do, and had found that I
felt alive in the theater. I felt important. Eventually word of what
success I had spread to the county playhouse, and that is how I got
involved with my organization, the Hardin County Playhouse. I quickly
rose to the position of Stage Manager, right under the position of
the Director. As Stage Manager, I was in charge of the cast and crew
backstage, the props, the set changes, I was responsible to be at
every rehearsal;. I simply managed the backstage goings-on. As far as
hours go, I gave up trying to count them. At last count, I had hit
two-hundred hours. I have been required to be at every rehearsal and
show. That's every Monday, Thursday, Friday, Saturday, and Sunday
for four hours, and almost two months per show. I have done roughly
ten shows in the two years I have been volunteering. Those two years
have changed me in an extreme fashion; I have become responsible,
dependable, outgoing. I've become a leader, instead of a follower.
My biggest challenge was definitely stepping up to such a position. I
was once very introverted, not anymore. My greatest satisfaction is
the shows themselves, and how well liked I am by my cast and crew.
It's difficult to be a manager and still be well-liked, to order
people around nicely. We provide a type of entertainment to the
community not provided anywhere else.
My entire career will be outlined by my work at the Playhouse. I regard
looking forward as looking forward and see the impact of your work. I
can see seasons of successful shows, and maybe one day I will start
my own theater, giving back to the community. There is a
misconception that theatre is "dying". I would like my work, and
similar people, to prove that wrong. I'd like to think twenty years
from now that I too shaped teenagers into adults, turned followers
into leaders, and provided the public with a magical theatre
experience.