Name: Cara Alexa Stolz
From: Allen, Texas
Grade: 11th
School: Allen High School
Votes: 0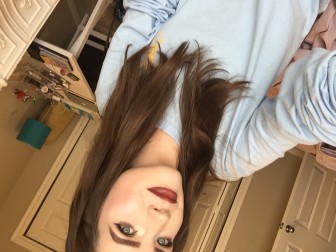 Youth
Forward Scholarship Essay
The truth is that as teenagers we are preoccupied. And more often than not, we put ourselves first. Volunteer work is not something that most teens are excited about, and sometimes it begins out of requirement and obligation rather than an inner sense of compassion for others. But it's origins become irrelevant when you appreciate it for the experience that it is and the ways in which it can change you and your community. Personally, I began volunteering to fulfill service hour requirements for both the National Honor Society and my Mathematics Honor Society. My volunteer work does not have a singular direction, because I have spread my time into a variety of fields, including tutoring, setting up events and benefits, and helping out at a local elementary school science fair. The science fair was probably what I most enjoyed, because I really felt that I was making a difference for the kids and I think that it is a special thing to be a part of that, so activities involving younger kids would probably be something I would like to focus my volunteering on next year. For this year, I volunteered only around thirty hours. But, what is really important is the change you make, not only in your community but in yourself and your ability to relate to other people.
Volunteering helps you grow as a leader and fosters responsibility. As a volunteer, one of my greatest responsibilities was when I tutored, because I had to make sure the students understood what I was explaining thoroughly. Also, I had to maintain a professional demeanor at the events I volunteered at. Overall, I have received the most satisfaction from tutoring because I know what it's like to lose faith in your intellectual abilities. So, to know that I could help another student to feel more confident, makes me feel like what I do and what we all do to help other people every day really matters. This has helped me learn that not everything is about me, and that even a small amount of my time can help. It's not that I
realized that I was some gift to others, but rather the opposite, that they were a gift to me.
My activities are forward looking in that they will help me become more
aware of others and foster my sense of compassion and communication. To me forward looking means something that will benefit my future, not only career wise, but as an individual. As an engineer, I would definitely need good communication skills. I seek to foster change in what students think they can accomplish. Because your time makes a difference, and that hour of tutoring someone in math may inspire them to greatness. I think if I come back in twenty years I will have made a difference, because we are the ones who give our actions
meaning. If it helped me grow as a person, helped others grow, it mattered.