Name: Sara Jordan
From: Mount Vernon, Ohio
Grade: 11
School: Mount Vernon High School
Votes: 0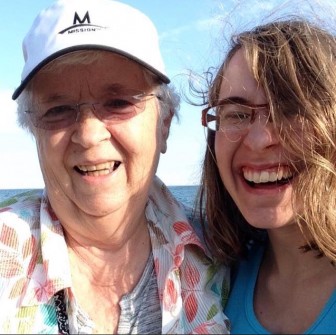 In middle school I ran track. I was never that good at it, but I loved it more than anything in the world. The one race I actually remember winning was the 400m dash. I collapsed into the arms of my friends waiting for me at the finish, completely happy with myself. Those few seconds were some of the most euphoric of my life. I quit track when I got into high school, people would tell me I was just running in circles and it bothered me. Through volunteering with my school's Key Club I discovered Aktion Club. Aktion Club helps train
developmentally challenged adults train for the Special Olympics. In the winter we helped train for basketball, and in the spring they ran track. I was immediately excited to be involved in track again, but I realized this would be different, I wasn't sure if I would get along well with everyone. I signed up for the next practice as soon as I could. As soon as I arrived on the track I felt at home again. One of the ladies in charge greeted me and told me I would be helping run a relay race, one of the team's members wasn't able to make the practice. She then introduced me to Tom, the lead, February, the second runner, and Alex, the anchor. I would be running third. We got into position (we were running 100m each) and Tom started off. I noticed that February was screaming and cheering like crazy for him,
and didn't stop until he handed off the baton to her. As soon as
Tom gave her the baton, February stopped cheering and Tom started. It warmed my heart to see them encouraging each other so much, so I started cheering for her too, and when I got the baton and heard her cheering for me too. Alex and I did the same. Once Alex finished we all met up in the middle of the grass and made a big group hug. In that moment I was so happy I had decided to come. We were all smiling and laughing together, and it reminded me of middle school after I ran the 400m. At that moment I knew I wanted to return every week to
help these wonderfully sweet people train. I am so glad I returned to the track that I loved so much in middle school to help other people. Even though I won't be pursuing any sort of sports or coaching position in the future, what I learned from Aktion club will still help me in the future. I learned to work well with people, and to quickly for bonds, which is extremely important in the field of psychology (what I want to go into). I believe I have made a difference in helping Aktion Club train for the special olympics because I have brought joy to their lives and have hopefully encouraged them to continue running.