Name: John Lee
From: La Canada, California
Grade: 12
School: Crescenta Valley High School
Votes: 0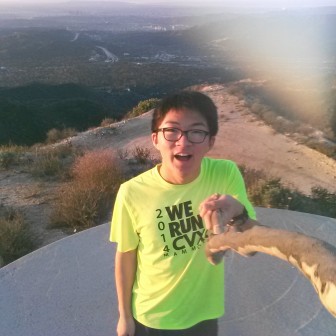 I have learned to embrace my strengths
as well as my weaknesses to persevere through every race.
Specifically, cross country introduced me to a friendly community of
fellow runners who learn to accept one another, despite his or her
own shortcomings. Hence, this sport has been not only a physical
activity, but a mental one. I found, through my participation in this
sport, my willingness to step out of my comfort zone along my
teammates to discover my own abilities.
This pursuit to find what I'm capable of carries on during other
extracurricular activities in and out of school.
As co-founder and co-president of
Group Gratitude, I volunteered alongside Union Station Homeless
Services for three years, spending around thirty weeks (about seven
months) with this blessed opportunity. I chose to manage this
organization because it would help me understand myself just as how
running accomplished for me. My responsibilities included uncovering
new ways to help fellow students display leadership, service, and
character. Indeed, my biggest challenge as a volunteer was
identifying my weaknesses – for instance, I struggled with time
management in some event coordination – but, at the same time, it
was an amazing experience as well. The fact that I take initiative
for serving others gave me the most satisfaction as a volunteer. I
essentially learned about myself through this opportunity, by
acknowledging my strengths and weaknesses through the duties I
fulfilled.

"Looking forward" means to be
content in present situations and having hope for what is ahead.
These activities influenced me to "look forward" in my life by
helping me value the times when I place others' needs before my
own. Thus, I aim to major in occupational therapy in which I help
those in need accomplish important everyday activities – that is,
help people live to their fullest. I participated in various
volunteer activities aside from serving the homeless, such as
building houses for needy families in Tijuana, that all inspired me
to foster a change in as many people as I can; I want them to boldly
challenge themselves to take steps forward and see what they can
achieve themselves. I'm thankful for being blessed with these
experiences to serve others while identifying myself through this
activity. If I were to come back in ten, twenty, or even thirty
years, I would still consider the impact that these volunteer
activities had on my life. I realize, by taking initiative for my
tasks, that I can accomplish more than just doing my best – that
is, I can understand my own abilities accordingly. They may
demonstrate my strengths along with my weaknesses, yet both allow me
to understand what I can do and keep running the road to ultimate
victory.