Name: Stephanie Poly
From: Upton, MA
Grade: 12 - Senior
School: Nipmuc Regional High School
Votes: 0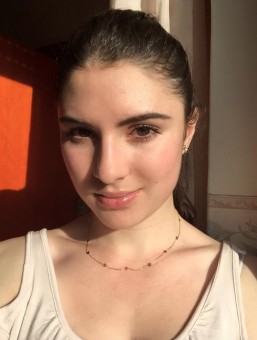 SERVICE TO OTHERS: 
Stephanie Poly
April 2016
Over the past four years, I have
dedicated over 400 hours to volunteer work separate from school
related volunteer activities conducted as a member of the National
Honor's Society. I have been particularly active with the Upton
Men's Club, an organization that arranges events for seniors and
the community, and the Milford Human Society.
Most of my volunteer work for the Upton
Men's Club involves serving dinner to seniors at the Upton Senior
Center, training new volunteers on how to interact with the seniors, and how to work
within the health-code regulation guidelines.

The Milford Humane Society is a
non-profit organization that cares for and houses over one hundred
cats. Volunteers dedicate their time to clean cages, feed, and give
love to each of the felines. I am so happy to be a part of this
community. I am responsible weekly for
taking care of over a hundred cats by cleaning their cages, litter
boxes, and rooms, feeding them, and helping to administer insulin, IV
fluids, and other medications.
Throughout the year the shelter hosts seasonal yard sales and a major
"Cat's Meow" auction in November. For my leadership project I
collected donations for both events, sending out flyers to the local
communities and collecting donations to be auctioned. It was very
gratifying completing the project, and I truly enjoyed the thought of
helping the shelter and spreading the awareness of animals in need. I
continue to volunteer at the Milford Humane Society, training new
volunteers on how to interact with certain cats and how to fully care for all the
animals in the shelter, ensuring they remain safe and perform
adequately giving the animals some well-needed attention.
The biggest challenge with volunteerism
for me is not having more time to give due to my scholastics and
athletic responsibilities. I enjoy my volunteer work and have never
done it just to meet volunteer hours. I have learned so much from the
elders as well as the challenges for caring for homeless cats. It
is difficult to say whether I have made a permanent difference at the
places I volunteer, but I do know that I share my passion for my work
with new volunteers and have seen them stay well beyond their needed
time to continue to give to these organizations.
I have always had a passion for animals
and have developed a strong interest in the biosciences. So over the
next 4 years, I plan to study Animal Science as an undergraduate with
a plan of going to Veterinary School. During this time, I want to
dive into animal research with the intention of discover better ways
to care for animals and their environment. It is through research
that I believe I can be "forward-looking," making provisions for
the future health and well being of animals. By demonstrating the
importance of caring for our animals, I can have a lasting impact on
the ongoing support of organizations like the Milford Humane Society.