Name: Camille Maraj
From: Tracy, California
Grade: 11th
School: Millennium High School
Votes: 0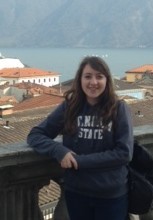 Service Is Worth It
Camille Maraj
Volunteering time and effort does not only benefit society, it benefits the person
doing the service. I have volunteered at a variety of places, logging
over 230 hours, but one of them was very special to me. Every weekend
for a year and a half I volunteered with a local animal rescue. On
Saturdays, I helped try to adopt out cats and dogs while
simultaneously trying to train and rehabilitate some of the "problem
dogs". On Sundays, I would spent a part of my ening cleaning the
cat cages at the pet store and and answering any questions a passerby
might have about the rescue, adoption, or the cats. I volunteered for
at least four hours every week, but usually more. While it was
challenging to do all the grunt work and get saddled with all the
dogs with social issues, I loved it. I got to give homeless animals a
great life, help the scared or scary animals become happier, and give
families a new addition.
I chose to work at an animal rescue because it has always been a
subject dear to my heart, and I wanted to more than just adopt a
couple. I wanted to help more than just three or four lives and this
way could help even more. It taught me a lot about animals, people,
and society. While my career goals do not lie in this field, my
volunteer work has been "forward thinking" by preparing me for my
career through teaching me new skills. It also has been "forward
thinking" in that I helped keep a problem from getting so much
worse that it already is. Years from now there will be fewer animals
on the street because I helped take them in, stop them from creating
more homeless animals, and inform people of the enormity and severity
of the problems around us. So while I was exhausted and had sore arms
from holding scared cats or dogs for hours or from trying to train
problem dogs who barked and lunged at everything, it was all worth it
to see their progress or to see them finally find a forever home.