Name: Ericka Kolden
From: Spring Valley , Minnesota
Grade: 11th grade
School: kingsland High school
Votes: 0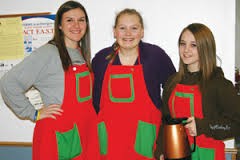 Being of service

I do not have a specific volunteering area for volunteering. I just
love helping out countless people thus I am willing to see to
whatever needs to be done. I remain involved in multiple different
organizations at my high school, for example student council, key
club, FFA, and National Honors Society. Our volunteering activities
range from aiding children to serving the elderly. I spend
approximately 2 hours of volunteering each week. In key club is more
community based, which I believe remains my favorite since it
benefits anyone in need. FFA is more agriculture based, while student
council is more school based. I appreciate all of these and love
getting the variety of volunteering experience. My responsibilities
as a volunteer is to be willing to contribute as much time needed and
not expect anything back. My biggest challenge as a volunteer is
finding enough time for all these activities. I have a need to
participate in every activity or service project that occurs
nonetheless it is difficult to select who needs to benefitted the
greatest. Also staying neutral, I create many connections with people
that I grow emotionally involved at that point it is time to leave
which is the most difficult portion of my volunteering experience. My
satisfaction of volunteering originates from the cheerful faces of
the people, whether it's giving nursing homes handmade decorations
that bring the biggest smiles to their faces or tutoring children and
watching at that moment finally understanding the material. I had a
little girl come up to me after I completed helping her and she told
me that her favorite days remain when we come and assist her class,
that is the utmost satisfaction. The satisfaction truly arises from
knowing that taking a little time out of your day can make a vast
difference in other people's lives. My ideal future career is
become a nurse, it impact numerous lives by becoming a nurse.
Volunteering revolves around helping out the less fortunate, while
being a nurse is helping out people who are vulnerable at a time in
need. Volunteering has contributed me the compassion and respect for
each person in the world. I learned to treat people with the greatest
amount of kindness I can offer them. It has taught me to be patient
and to have no judgment towards people as each person has a struggle
they remain working through, all they need is for a person who cares
to stick by them. I want to be that specific person in as many lives
as I can.