Name: Sam Terechenok
From: WINTER GARDEN, Florida
Grade: 12
School: West Orange High School
Votes: 3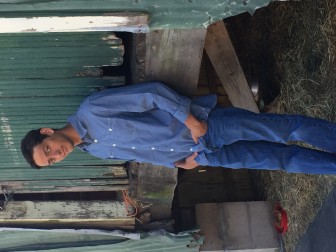 From a very young age my parents have been teaching me the importance of
volunteering. In my family we call it serving. It is something that
is just a part of our lives. We feel that serving others is what we
are called to do. It requires no skill and no money, but it comes
with the greatest rewards. Seeing the smiles and knowing how
grateful people are when they've received help they weren't
expecting, is priceless.

As a member of National Honor Society and at my church I have
accumulated more than 200 hours of service. We do Meals-On-Wheels and
teach children's choir. This spring, I set up a cohort of students
to volunteer at my elementary school. We worked two afternoons a
week for about 4 months. It was hard to get my friends to commit
every week, but what we were able to accomplish with just a few
people was really a blessing to the kids and teachers. We cleaned
classrooms, tutored younger students, organized closets and helped
teachers prepare for lessons. I even ironed 25 table cloths for a
fundraising dinner. I love how much these teachers did for me, and I
wanted to give back some of my time and efforts.
For the past 5 summers, I also volunteered at a Music Day Camp at my
church. What an amazing process to see about 75 kids learn a show
that they start Monday morning and perform Friday night. I help with
the tech group, to mic up the kids, move sets, and run sound and
lights. These kids are awesome and it's such a pleasure to see
their talent.
I am off to college in a few months, with a plan to study Engineering.
My prayer is that I find a place to plug in to serve. With my degree,
I know I could go half way across the globe to help those in need,
but I hope I can make a difference close to home as well. My
community and church have done so much to shape my life. I want to
be able give back.
I get such satisfaction in knowing I've made a difference in
someone's life. I learn about the struggles people face and I get
out of my own head for a few hours. Volunteering makes me a better
person, but my goal is to make my part of the world a better place.