Name: Morgan Kmitt
From: North Royalton, Ohio
Grade: 12
School: North Royalton High School
Votes: 28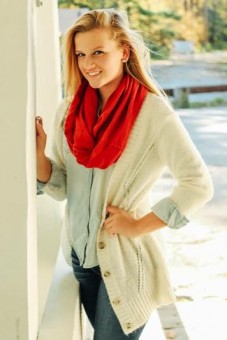 The Silver Lining of a Death That Devastated My Family

The greatest and most rewarding community service has been my involvement
in a local non-profit organization, All Kids Playground.
Unfortunately, two years ago my Down's Syndrome cousin, Katie, passed
away after having a heart attack in the middle of the night. This
sudden tragedy hit my family like a pound of bricks. Following this
event, my mother and I set out to create a type of "silver
lining" out of such a devastating fatality. Conveniently, my
mother's best friend, Tammy Tomasello, had begun a non-profit
organization called All Kids Playground. My mother and I immediately
became involved, and after only a few months of hard work, we both
got elected to be board members for this outstanding organization.
The non-profit's mission is to construct a playground, in Parma,
Ohio, that encourages inclusion by providing play equipment for
exceptional children, allowing children of all abilities to interact
and develop life skills as they play. The environment of this
playground will promote physical health as well as emotional
well-being and overall acceptance of other individuals. All Kids
Playground is creating something unique, and something I believe can
enhance communities all over the country.
The participation within this organization has become one of the proudest
involvements of my life, as it allows me to not only give back to
those around me, but for me to grow individually through working with
all different types of people. As a board member, my responsibilities
range from encouraging fun within exceptional children, to writing
press releases, to even meeting with representatives of local
newspapers to discuss this organization. This allows me to experience
all different types of people while loving what I am doing. Last
month, the board members took children of all different abilities and
their families bowling, and just simply got to have fun with these
incredible children. In addition, five weeks ago I had an hour phone
conversation with a writer of the Sun Post and Cleveland.com after
writing him a press release about the ribbon cutting occuring that
upcoming week. Having this opportunity to take something so special
and fun with children, and turn it into something so professional
that can change the lives of several families is beyond amazing. It
is something that has opened my eyes to not only all different types
of people, but the societies of entire communities as well. Although
the playground itself is built in Parma, we have held fundraisers in
North Royalton in order to get surrounding communities to embrace
this excellent foundation. Mayor Bob Stefanik himself has attended
our fundraisers, as this organization calls for all surrounding
communities to unite to build an all-inclusive playground to be
utilized by all communities of NorthEast Ohio. This organization
turned something so tragically devastating into something beyond
rewarding, and something that has changed my perspective regarding
exceptional children throughout the world.