Name: Noah Bilti
From: Renton, Washington
Grade: 11
School: Kentridge Highschool
Votes: 0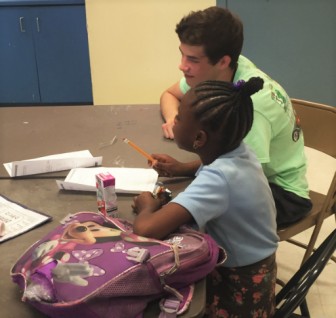 4 years ago I was given the opportunity to not only play piano on the
church worship team at a camp, but also to serve as a volunteer
counselor for a group of 6th boys. Initially I was
apprehensive about managing a group of rambunctious middle school
kids for 3 days, but I felt it was my duty to help the church and
maybe even impact these kid's lives in a good way. As the years
progressed and I was repeatedly called to serve at various winter and
summer camps for elementary and middle school students, I began to
realize and acknowledge the impact I had on these kids. I fell in
love with being a camp counselor, and have not missed a single camp
since that day 4 years ago. I truly enjoy investing time and energy
into a student's lives, because that small sacrifice of a week has
the potential to change a kid's life.
Every year our
church organizes 6 different camps, two of which are designated for
my age group. That leaves 4 elementary, 6th grade, and
middle school camps where I actively serve and play piano on a
worship team. An approximate total of 408 hours a year, not including
leading a middle school student small group every Sunday, is
dedicated to camp counseling. Some responsibilities include leading
them in a short daily bible study, helping the kids get across camp,
and simply being a trustworthy confidante for whatever is on their
mind. The biggest challenge in being a camp counselor for young
students is mastering the skill of reasoning. Even the most well
behaved 4th graders require a new method of reasoning to
get a point or instruction across. Mobilizing 10 energetic kids to
and from activities and getting them to fall asleep is no easy task
as a young leader, but learning and practicing that skill of
convincing a student to do something in a context that they can
understand is extremely helpful in being an effective camp counselor.
Although that is the biggest challenge in any situation with young
students, conquering that obstacle proves to be the most satisfying
aspect of this service. When I gain a student's respect and trust,
their week of camp becomes even more fun because they now have a
"grown-up" friend who has their back.
To this day, kid's parents keep in touch with me, asking how I'm
doing, and I am still friends with students who are also growing up.
That bond and trust is most satisfying, because my service affected a
kid's life in a phenomenal way. I have learned that even a small
week of service for these kids has a lasting impact in our
relationship and their success. "Forward Looking" to me means
thinking about the impact my service has on the world. I believe my
service has encouraged and helped students to be the best person they
can be, because they helped me be the best person I can be.