Name: Arielle Moore
From: Poughkeepsie, New York
Grade: Freshman
School: Vassar College
Votes: 78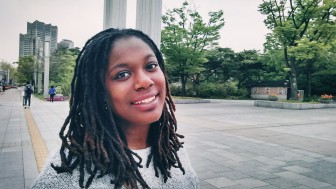 Arielle Moore
4/30/2016
Growing up, my family was always focused and obsessed with good food.
If I were to call up my mother and ask her how her day went, she
would probably mention if she ate something that was especially
delicious that day. Once a week you could find me in the kitchen
trying to see if I could make blueberry tarts from scratch with no
recipe, or learning the hard way that anything left on high broil
will probably turn to charcoal if you blink. We were vegetarians in
a small town in the middle of Alabama, so being creative with food
was something I learned from a small age. I thought that anyone can
eat well if they were creative enough with their ingredients because
that is what my family did. However, once I started volunteering at
the community soup kitchen in my town I learned how fortunate I was
and how by working there, I can make a difference. I worked at my
community soup kitchen for about 6 hours and I also helped my
church's food bank once a month for about 4 hours. While working at
the food bank my responsibilities included: packing food bags,
helping people file their paper work and helping take food bags to
people's cars. While I was working at the soup kitchen, I helped
serve food, cleaned up spills, and served juice. The work was
sometimes very demanding, but it was ultimately rewarding because
after time passed you got to know some of the people you were
serving. Serving others is something I have always enjoyed, but the
biggest challenge I ever faced was really pushing myself to do the
service. Waking up early on the weekends was just enough to make me
ask myself if they really needed me at the center. But after having a
meal, realizing that someone did not have the chance to eat that day
motivated me to give back to work. Thinking back to the times when
would look in my open pantry and think of all the possible food
concoctions I could dream up, I know that I am enormously blessed so
it is my duty to try and help others so that we can all be well fed.