Name: Andrea Gonzalez
From: Downey, CA
Grade: 12
School: Warren High School
Votes: 0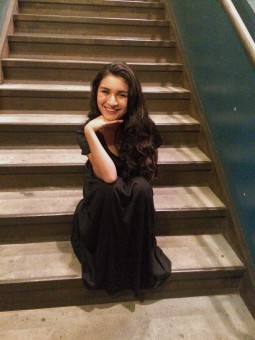 It All Starts Here
My name is Andrea Gonzalez, and I chose to volunteer at the Aquarium of
the Pacific. I chose to volunteer at the aquarium because I am
heading towards a career that deals with a variety of animals, and
volunteering at the aquarium seemed to be an experience that would
help me in the future. I started volunteering at the aquarium as a
"Volunteen", and was a Volunteen from March 7, 2015-May 23,
2015. I volunteered a total of 81 hours from volunteering every
Saturday. As a Volunteen, I had different work stations in which I
switched to every half hour. My job was to inform kids about the
animals with games. An example of this was the "Hermit Crabs"
station. This station was filled with a variety of shells and one
hermit crab toy. The purpose was to get the kids to try and guess
which of the many shells was a perfect home for the hermit crab. This
would then turn into a lesson on how hermit crabs shed their shell
for a bigger shell as their new home when the time is right. Once the
Spring program was over, I decided to continue volunteering and
became an official volunteer in which I interacted more with the
adults. As a Volunteer I did a total of 101 hours, going behind the
animal stations and speaking on the microphone towards an entire
crowd, giving everyone facts on the animals. Being a Volunteer was
difficult because adults had questions even I could not answer
sometimes. This gave me the option to do some research myself and
learn something new as well. The greatest satisfaction I got while
volunteering at the aquarium was giving kids the confidence to touch
the animals. Sometimes I would encounter a child who was too scared
to touch the animals in which I knelt down to their level and gave
them the chance to see me touch the animal and show them everything
was safe. The moment they gained the confidence to touch the animal
was what gave me satisfaction. I was part of this new experience for
them and helped them get past their fear. As a volunteer I learned
that there is no such thing as knowing it all! There is so much
information about the world and it is impossible to know it all.
Looking towards the future from my volunteering I see my career as a
veterinarian as very outgoing with my patients (both animals and
their owners). I see forward looking as an idea of how this
experience will help me and the people around me in the future. From
interacting with different people at the aquarium, I gained the
confidence to answer any questions they might have or use resources
to answer any questions I might not know. I believe volunteering at
the aquarium made a difference not only towards my own experience,
but others as well. Thank You.