Name: Ama Essiomley
From: MInneapolis, Mn
Grade: 11th
School: Patrick Henry High School
Votes: 0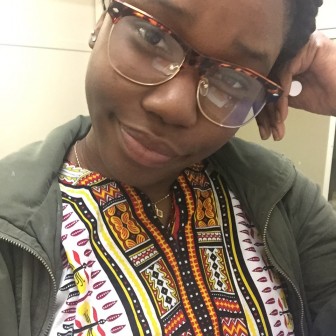 For the past two summers I have been volunteering as a day camp counselor at a program
my church runs called Summer Place. What that inspired me to
volunteer was my love for making children feel loved and cared for.
My first day volunteering was a huge eye opener for me. I saw how
much summer place allows the kids in the neighborhood to advance
their education and yet be able to express themselves and have fun
with the community in a nurturing environment. Summer place is a safe
place for many of the children that walk through the doors. It is for
some, a place to escape from troubles at home. This programs even
allows for the parents of these children to become connected to the
church and many opportunities that we offer. Throughout the years of
volunteering I've noticed that summer place brings a sense of greater
community and love in the neighborhood.
One of my main roles as a counselor was to keep the parents of the children in touch
with the program, so I often walked kids back to their homes. I did
my best to make sure the parents felt that their children were safe
in our hands. The best part of communicating with the parents was
seeing the look on their faces when their child comes home eager to
share what went on at Summer Place that day. Being able to have such
a huge impact on a child and seeing how excited they were about
learning made me see that Summer Place was much more than day camp.
Summer Place was a community where everyone from kids, to staff, and
even volunteers felt comfortable to meet new people, express
themselves, and learn new things. Volunteering at summer place has
certainly made me a better person, and I look forward to volunteering
every summer. Looking forward to the future I see my experience
helping me to overcome challenges that I may face through the
patience and perseverance I gained while volunteering at summer
place. Through Summer place I hope to inspire young children to reach
for whatever makes them happy in life. I hope to bring positivity
into their lives, so in the future they can also bring positivity
into the world. If I was to come back a few years from now and look
upon my volunteering I think I would be content with the fact that I
was apart of an endearing community and was able to help young
children discover their capabilities through learning and having fun.