Name: Derick Diaz
From: New York, New York
Grade: 12
School: A. Philip Randolph Campus High School
Votes: 174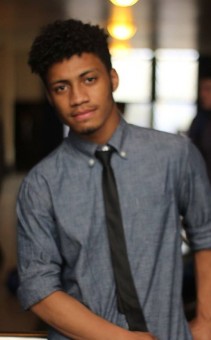 Helping strangers or bettering the community isn't something I was accustomed to. But I am
a different person now than before I started volunteering at Word Up,
a volunteer-run bookstore in Washington Heights. Before, I had a very
negative mindset. I saw my life as a series of depressing events, and
I only thought of myself.
But then a good friend invited me to spend the day at Word Up. She noticed that I had
been unhappy and she told me I should consider volunteering there. At
the time, I felt like she just wanted me to distract myself with
something, which is what I did.
I volunteer at Word Up on Thursdays and Saturdays for seven-and-a-half hours a week. It
isn't a huge amount of time, but it's enough to make me feel like I'm
contributing and giving back to the community. My responsibilities
include shelving books, helping customers, and closing the store. But
being the cashier is the best part, in my opinion, because I get to
have a conversation with each customer to try to brighten their day
before they buy their books.
The biggest challenge for me was learning how to interact with strangers because
I have really bad anxiety, which makes it much harder than for people
who don't struggle with anxiety and depression. But, at Word Up, I
slowly adjusted to my environment and got used to talking to
strangers.
Now, I love volunteering because I love making friends with other volunteers and
helping the community have a source of books nearby. I love books, so
helping kids, adults, and young adults who love reading just like I
do is really fulfilling to me.
What I learned from
volunteering at Word Up is that life is better with interactions –
be it with a friend, a stranger, or co-worker. I know that what I've
learned about how to communicate will be very important in my career
and in life.
Word Up also showed me that life is so much easier when you bring a positive outlook to
others. All of my positive actions at Word Up create reactions (and
even a small reaction is still a reaction) that create more good in
the world. And that, to me, is "forward looking:" causing a
reaction, big or small, that helps move the world forward in a
positive way.
I believe that everyone should be entitled to knowledge and that, no matter where
you live, you should be able to go to a bookstore or a library to
read and learn. In the future, I would like to see every child be
given the chance to read a book, because all it takes is that one
favorite book and then you just can't stop reading. In thirty
years, I hope to see Word Up still up and running, providing the
community with a place to read books and learn. And I will know that
I was once there to keep Word Up running.