Name: Kaitlin Tucci
From: Las Vegas, Nevada
Grade: High School Senior
School: Rancho High School
Votes: 15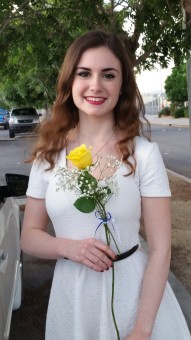 Success is not only defined by the accomplishments that we,
as achievers, complete, but by how many people are positively
impacted by what we,
as leaders, do. That is how I interpret Minor Myers Jr.'s quote,
and consequently how I have always strived to live my life. Serving
my community has been an integral aspect of my adolescent career and
to which I attribute my greatest contributions. I was elected by
Nevada Senators to represent 9,000 teens in District 7 attending over
12 schools through the Nevada Youth Legislature. This empowered me to
plan, organize, and hold town hall meetings within my district to
provide the attendees with a chance to share their ideas to impact
our government resulting in a college readiness and performing arts
program for thousands of students in my community.
Growing up in a city such as Las Vegas provides me a unique view of the
hierarchy of households in a large suburban jungle. There are opulent
families living on golf courses on Spanish Trails. There are the
middle class, in Green Valley. There are the struggling families
living in Las Vegas commons. Economic status is and always has been a
tell-tale sign of social status and privilege for adults, but often
overlooked when it comes to the teens. Their age group is harshly
impacted by financial struggle and lack of a voice opposed to adult
counterparts. This reality I was unaware of until I was elected to
become a Nevada Youth Legislator of my home district, 7, which was
not only part of the Green Valley community, but another area of a
much less opulent social bracket. I was not sure what to expect, so I
began with meeting with people from middle class communities to a
moderate turnout.
In an effort to preserve equality, I decided to hold a small town hall
meeting at another local high school in the less opulent section of
my district. Not expecting major turnout due to my other meetings, I
did not prepare myself for what was about to come. Wow, was I wrong.
As I entered the crowded lecture hall, I realized the dedication and
pure enjoyment teens had with sharing their voices. As topics such as
poverty, cancellation of the arts, and the cancellation of their
sports programs swirled the room, entrusting me with their problems
and advising solutions, I realized that all teens, no matter their
lower level of opulence strive to have a united voice. They were
worried about their lack of unity and leaders advocating to save
their programs, rallying for me to become their leader, and their
beacon of trust and leadership in this struggle to save the
activities that many students depended on for their future.

It was at this very moment that I realized the students, regardless of
their background or social status, are truly the pioneers of their
own future, just as they were in past generations, starting families
at fifteen or sixteen. What caused the transition from the historic
regard as household leaders to the regard of silent children… we
may never know. However, after experiencing this immense cry for the
mending of their society as teens, I brought all of their ideas to
the legislature. We worked tirelessly mending each issue one at a
time, and bringing the final products before the Nevada State
Legislature. Needless to say, the teens voices were heard, and I will
ensure that this a regular occurrence. It is unacceptable to not give
a voice to the people who hold the future of our world in their
hands, especially those who are not blessed with financial privilege.
When teens are the future of our society, holding them in a similar
regard to adults is the best path to creating a unified and brighter
future for generations to come. President
James Buchanan once said, "Leadership does not place greatness into
humanity, but amasses all of humanity into leadership."