Name: Caolan Keenan
From: Allendale, MI
Grade: 12
School: Grand Valley State University
Votes: 1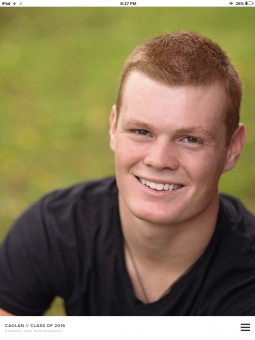 Caolan
Keenan
DMV
Scholarship
Spring
2016
I
Am Third
My volunteering activities may seem less important than some. Some
people go to soup kitchens every week, help at pet shelters, or work
with the elderly. Volunteering anywhere counts for a lot, no
discredit to these people helping others. However, working with youth
camps, day camps, or even child care centers may seem more like
babysitting than volunteering. However, I think the involvement of
good role models in kids lives makes the biggest difference in
society, by shaping kids into responsible, generous adults who grow
into volunteer themselves.
Every summer I sign up to volunteer at a week long day camp and an eight
day summer camp. Both camps truly demand a lot of effort and energy
from their counselors. Day camp consists of trying to organize a band
of six year old boys to sing, behave, and do activities. Summer camp
demands lifeguarding on the lake for 3 hours a day, plus various
other activities such as supervising canoers, playing with kids, all
the while setting a good example. All activities interacting with
kids provides a huge opportunity to shape their young minds. To
adults or teenagers, an interaction with a younger person may seem
pointless. However, in the kids eyes, looking up and seeing a grown
up act in a way shapes their conscience. Saying "Hi" to them,
picking up a dropped item, or just positive speech makes kids into
better people. Each small instance, seemingly unimportant, shapes
young ones minds in ways unimaginable to oneself.
While working with kids, I began to see how much they admire their
staff/counselors. Often times, a kid will come up and tell you how
old they are, all proud of their status as a seven year old. Once you
tell them you are eighteen, seventeen, any-teen, they become amazed
and ask a million questions. After this typical conversation, I
usually find these kids become my "buddies", and they share their
most important bug discovery, new cannonball technique, or funniest
joke. Being able to have this connection with youth means so much to
me, and having the opportunity to act as a role model to them means
more. Although standing in the sun on a raft with screaming children
gets difficult sometimes, the result of this volunteering ends with a
safe swim time, craft time, or game time, and the satisfaction of
being someone's inspiration. Serving has taught me how to live a
true life, where even when you may not feel the best, you smile and
help another person. When at a week long camp, you have no time to
sulk or complain, you just have to serve joyfully and set a good
example all week long. I learned how to stay positive, interactive,
and how to put others needs above my own. That is why I am third.