Name: Sara M Grenier
From: South Paris, ME
Grade: 12
School: Oxford Hills Comprehensive High School
Votes: 0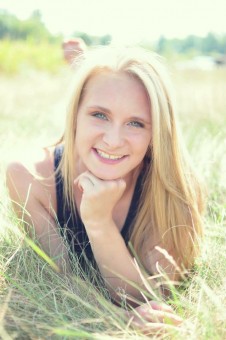 Three Cheers for Volunteers
For as long as I can remember, I've wanted to work with children.
I babysat often enough one would think I would be sick of them, but
not me. Instead, I interacted with them through volunteer work,
whether through the community or in cheering. Even my career goals
focus on children since I have chosen to become a pediatric
occupational therapist. I see them as the future and by helping them
I am only helping the world be a better place.
At my high school, seniors are required to complete a senior project
that needs to benefits yourself or the community. For mine, two
friends and I talked with a kindergarten teacher at Paris Elementary
School and the local animal shelter, Responsible Pet Care. Our
project teaches a kindergarten class the importance of animal care.
Working with kindergarteners was perfect because I loved the
opportunity to interaction with children. First, we played
interactive games and made a book full of each child's drawings of
their favorite animal, what they would feed them, and how they would
play. We brought the class over to Responsible Pet Care where there
is a community cat room. We taught them the right way to pet and take
care of cats. Unfortunately, the shelter has strict rules about their
dogs and we weren't allowed to see them. This was a great
experience and pushed me even further to keep my interest in
pediatrics.
As a 5'2" blond-haired,
green-eyed Cheerleader, I coached at the local summer cheering camp.
I helped teach not only physical aspects of being a cheerleader, such
as tumbling, but also good citizenship. We drilled into them that
their actions have consequences and not to disrespect their fellow
cheerleaders, school or community. Assisting them before and after
the camp day, I'm proud of their progress. My camp team was also
the only ones to give thank you presents to coaches, so I truly
believe they understood the lessons taught. As a team we sponsored
community expos for parents to see their abilities as, helping to
contribute to next years' teams. I was involved and worked for the
charity Cheerleading events, such as Cheers from the Heart, a
cheering event that everyone around the state comes to compete. All
money raised is donated to local charities. We also championed our
school teams at sporting events and awards nights.
I was never completely sure what I wanted to with my life until the
middle of my junior year of high school when I started to explore my
options. I fell in love with the idea of being able to help people
physically and mentally, so I had researched certain jobs that would
fit. As soon as I saw occupational therapy I knew it was perfect.
Since I love children and love occupational therapy, I want to
combine them. I decided to pursue a career as a Pediatric
Occupational Therapist and am attending Johnson and Wales this fall.