Name: Suganth Kannan
From: Weston, Florida
Grade: 11
School: American Heritage School
Votes: 37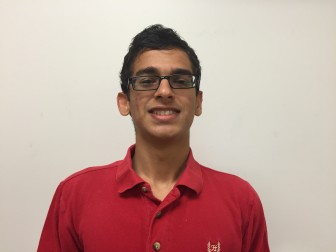 Three
Public-Private Partnerships I Created to Change my Community
Every day that one can transform the community is a day well spent. I gauge
each of my actions by the previous statement. The largest, discernible impact I have had on my community manifested itself in the form of a groundbreaking project: building a ramp to assist people who utilize wheelchairs and walkers on a daily basis: paraplegics and quadriplegics. To fulfill my mission, I created numerous public-private partnerships between major corporations: Chick-Fil-A and Home Depot of Atlanta and American Heritage School and HAPPI Farm of South Florida.
HAPPI Farm proffers animal interaction therapy to those who suffer from
debilitating, life-changing disorders such as PTSD (US Armed Forces Veterans), stroke, Multiple Sclerosis, and ADHD (school-aged children). The broad scope of community impact of HAPPI Farm, in conjunction with the experience of the Founder and President Marie Lim, proved to be a perfect match, since I utilized HAPPI Farm's scope to draw all the members of the local community towards the organization, previously located on an isolated plot of land. I had always harbored an interest in the sciences and technology; Mrs. Lim taught me about the health conditions of the animals and the technology utilized on the farm to run daily operations.
Returning to the revolutionary project, I invested 15 hours per week
galvanizing fellow students, poring over account books, negotiating materials for the ramp to free cost, and contacting local politicians and school owner to be guests of honor. I utilized my chairman position in a service leadership club in my school to lead the
project and serve as a connector between public and private entities. The most exhilarating aspect, despite being the most challenging, was the coordination between entities who were engrossed in their day-to-day activities.
On the day of the event, I received utmost satisfaction from the
compliments from the politicians and school owner, but more importantly the happy faces of all the volunteers and the people who were in wheelchairs at the prospect that they would have a more comfortable therapy experience. In fact, I felt a happy sensation
ripple through my body when the ramp was tested successfully. By leading this community-transforming project, I absorbed the importance of motivating people to change the community.
In the future, I believe my positive experience with the community will
have a long-lasting impact. In any career, my experience's versatility will prove instrumental in my success as a professional in the ever-changing world. The change I made in one farm will motivate others to replicate the same in other locations offering similar services, which will be of utmost exigency as the US and global population age at an unprecedented rate. In thirty years, I hope to return and find that HAPPI Farm has expanded to many locales
that offer animal interaction therapy. I believe the three partnerships: HAPPI Farm with Chick-Fil-A, Home Depot, and my school will persist in making everyone happy.