Name: Manuel Leon Guillen
From: Escondido, CA
Grade: 12
School: Escondido High School
Votes: 0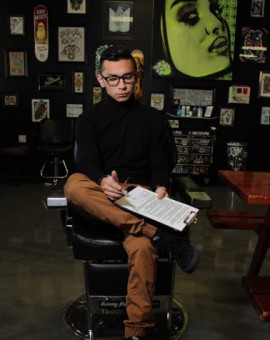 I've learned to be a leader and be so open-minded through Rincon Middle
School's Peer Leaders Uniting Students, PLUS. As a member, I was
encouraged to promote peace and establish a safe environment for all.
The involvement in PLUS with my former teacher, Ms. Medina, also led
to my desire to support a peaceful society, free of violence and
racism. From middle school to high school, I remained focused on the
objective of eliminating the separation of cultures.
In 2013, I led University of San Diego student through a forum that
centered on the idea of racial tolerance, alongside Ms. Medina. I was
able to set an example for college students, even as a young high
school student, in promoting harmony and justice for all ethnicities.
Then in the summer of 2015, I aided Ms. Medina in designing and
leading a youth peace conference with a group of colleagues in the
San Diego County area. The event was known as "Courageous
Presence," which promoted peace, harmony, and tolerance. Both
events signified my passion for promoting a peaceful society that
disregards race and establishes equality for everyone.
Currently, I work with the youth at a local middle school that is considered to
have "at risk" students in our community. These students have
ceased making an effort in their education at such an early age. On a
regular basis, I help these students with their class work but I also
lead dialogues to encourage racial harmony. As I aim to set an
example for my brother, I will also be setting an example for
children belonging to my community who have lost hope. With good
examples, they too will become leaders in our community.
Dealing with the youth is never an easy task to take on, especially a youth
that is considered "at risk" in our local community. I typically
work with these students ten hours a month through the whole school
year. Therefore, the most significant challenge I faced as a leader
would most definitely be mentoring students. I knew that these
students just needed compassion and patience in order to realize that
there is hope even for those with limited opportunities. Reaching out
to the youth and advising them to disregard society's current
viewpoints on culture reflects what I'm most passionate: racial
harmony. These kids
have shown me to value your background; they have helped me gain a
better understanding of myself and of my dreams.

I wish to see our whole society
thrive; I understand that there has been much improvement in
establishing racial harmony but we have to continue this movement.
Society needs to keep moving forward, they need to keep encouraging a
multicultural atmosphere. In a few years, I hope to see those
students who I have mentored also thrive to keep this movement going.
I know that my involvement with these students has made a difference
in the lives; they will respectably express their beliefs without
neglecting the beliefs of others.