Name: Lovely Tukuafu
From: Bountiful, Utah
Grade: 12th
School: Bountiful High
Votes: 0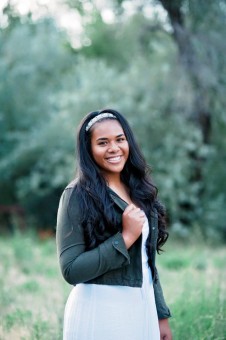 Lovely Tukuafu
Serving Others
Growing up I have always been taught to love others, and serve them as if they are your
own family. I come from a big family who comes from a small island. I
come from the island of Tonga, located on the Pacific Ocean known as
the Polynesian islands. Lucky for me both my grandparents made the
sacrifice to trek their families across seas to bring them to
America, in hopes for better opportunities for their posterities to
grow. Both sets of my grandparents helped many people that were
friends, and family make the trek across seas. From their many
stories I can only see how they served these people by bringing them
into their homes when they arrived here in America, and loving them
and welcoming them into the family. I am who I am today because of
the "Village" who raised me to be educated, kind, and loving.
From each and every one of their examples, I hope that I can always
serve others as my grandparents have served in humility to many of
their friends and family.

I love when I get opportunities to volunteer at the homeless
shelters, or donate knitted blankets to the hospitals for children.
When we serve others, we shouldn't look for the gratitude in
return, but we should forget ourselves and remember the purpose is
helping them. I learned several years ago when volunteering reading
to a group of kids at the homeless shelter that it wasn't anything
about me reading to them, but the time I was given to love these kids
who I didn't know at the time that but I know they needed comfort
at the time. The hardest part for me when helping people who are less
fortunate is seeing how hard it is for them to face the challenges
that they are facing at the time. In hopes and wishes I go in with a
goal, to make them smile, or to give them an ear to talk to, or just
to simply be a friend that is giving positive influence to have hope
to seek for. The flip switches when finding volunteering hard to
contain my emotions of sadness of the burdens these people are
carrying on their backs, is when I see a smile, or a laugh. Life is
short; the material things in the world don't matter, because they
don't go on with us. I believe that giving love, service, and time
to the people around you is priceless, and permanent. When I am able
to forget myself and help others, I know that is what volunteer work
is. Volunteer work isn't just important during the holidays, or
special occasions, it's a daily basis step by step small or little
it's service that is given from the heart. Serving kids in the
homeless unit, and playing with them brightens my day. I volunteer
and serve others because I want to share the love that my family has
shared with me.