Name: Carla Salas
From: Tolleson, AZ
Grade: carla.salas37@gmail.com
School: carla.salas37@gmail.com
Votes: 25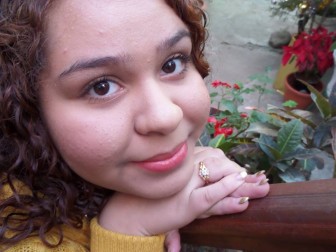 Transcending the Language Barrier
I do not have a specific area in which I have
chosen to volunteer in, but my volunteering usually revolves around
school related events. School related community service has always
been appealing to me because it is the simplest and easiest to
participate in. In a month I usually complete three to five hours of
volunteer service. As a volunteer it is usually my responsibility to
serve in assistance for an event and as a translator. My greatest
challenge as a volunteer is bringing ultimate satisfaction to those I
serve. While volunteering distasteful eyes tend to stare at me. With
the apparent Hispanic features, it is often difficult to volunteer at
places where there are not prejudice eyes staring at me. Although I
may face this difficulty it does not discourage me from volunteering.
There is a belief within my soul that holds the faith that humans
will one day transcend their conscience and unconscious prejudice by
being expose to different and unique individuals. The greatest
satisfaction as a volunteer is the breaking the language barrier
between people, it fills me with great pride that the language of my
culture is able to unify people instead of creating barriers. As a
volunteer I have learned that service comes in many different forms,
for me, translation has been the most important and constructive to
myself, it has allowed me to expand my linguistic abilities, and has
brought pride to my foreign parents who often feel ostracized, they
see that through my bilingualism I have been able to relieve the
sentiment of being ostracized.

"Forward looking" is a statement in my mind
that is equivalent to the statement, "Begin with the End in Mind",
Habit 2 form the novel 7 Habits of
Highly Effective Teens by Sean
Covey. I was assigned to read this novel as a freshman in high
school, and it has been applied in my choices since then. Therefore
the statement "Forward looking" implies for an individual to see
the end when they begin something. My activities as a volunteer has
allowed me to look forward into a future helping and understanding
others. Working as a volunteer has allowed me to see into a future
involved in the medical field. With my volunteer service I seek to
foster the power to break the barriers of prejudice and to understand
the complexity of human thought and tendency. If I were to go back
ten, twenty, or even thirty, years I would believe that my volunteer
service has made an impact, even if in the slightest, I have been
able to break the language barrier for someone, and have relieved
them from the sensation of being the outlier
in a crowd. Thinking back to the volunteer service, my assistance
using my culture's language has not only been constructive to me as
an individual, but helpful to another human being who has struggled
in feeling accepted and comfortable in a society that is foreign to
them.