Name: HwiSoo Kim
From: Van Nuys, CA
Grade: 12th
School: Van Nuys High School
Votes: 0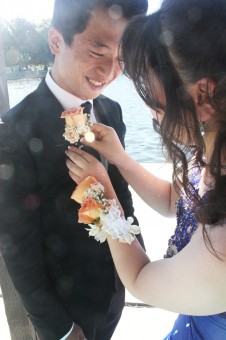 The beauty of adversity is that it's universal, and that its ubiquity
sprouts connections. Meeting next month's rent is an obligation to
tenants of any race, religion, or sexuality. The troubled yet
familiar look, of eyes overworked from the strenuous effort to hide
pain, and the mind shaken from the unrelenting struggle to make ends
meet, resonates in my urban neighborhood.
Yet I look around and see happiness in its purest form, untainted by
worldly ornaments. It's everywhere, especially in the "ghetto."
Admittedly, the scene is hazy: unsettling police sirens 24/7, a heap
of "vagrants" and "suspicious characters" that our parents
have lectured us to avoid, and the putrid stench of urine and feces
on every other block. It's the kind of setting that drives many
people away, particularly an 18-year-old craving escape.
Genuine happiness is found in my world, just on a deeper level — that is,
adversity is the source of our strength. Therein lies the ineffable
warmth and love that transcend all societal restraints. It's found
in my mom's feet, calloused from waitressing, causing her pain on a
nightly basis; in my sister taking a year off of school to help my
father's business; in my neighbor and friend Bryan, a Salvadoran
immigrant, working 12 hour shifts to provide for his younger
siblings; and in all our families, fighting for each other.
I'm an immigrant kid from a densely populated urban community, writing my
own rags-to-riches story, only without the greenbacks. My interest in
law, originally sparked from a misconceived desire to find comfort in
financial stability, now burgeons through an understanding of myself
and the context of my beginnings. That my family and I received our
green cards recently doesn't warrant forgetting about those trying
years, from the constant back-and-forth of submitting the required
legal forms or taking up loans to cover USCIS filing costs and
Immigration Attorney fees. We worked alongside each other, joined by
both hands and empathy, with every squeeze a reminder that we were
not alone. We'd turned an overarching problem for immigrants into a
family project. When one family member lost motivation, another drew
up more. When one shed tears, another smiled brighter. After having
our Form-140, Immigrant Petition for Alien Worker, denied more times
than we could emotionally handle, we were absolutely beside ourselves
with joy when approved to be Permanent Residents.
Success, I've learned, bestows responsibility. Responsibility means staying
rooted and using the wisdom of experience to guide those
circumventing a roadblock one's bested before. I live on a block
primarily dominated by undocumented immigrants. Yet, when I went
door-to-door to inform workers of their legal rights as part of a
local civic action project, I found that few even knew that they had
rights at all. I was livid to learn that a common mantra of
undocumented workers was "No complain. No trouble." This meant
that these workers have already ceded the notion that they deserve to
work in safe, fair environments under safe, fair conditions. This
meant that workers were PREPARED to deal with exploitations and
remain silent. Upon sharing my frustration during the customary
end-of-program presentation, I realized something: I really care
about this issue. My parents had to fend off being taken advantage of
in their early years in the US, and even though I was too young to
understand that working 12 hours without being paid for overtime was
worker mistreatment at best and a violation of the Fair Labor
Standards Act at worst, I was overwhelmed with empathy, feeling my
parents' fatigue and despair.
Too many voices are oppressed by fear and misinformation. Too many cannot
afford a qualified advocate to deal with expected employer
retaliation, after complaints are filed. If assisting Korean elders
with simple yet meaningful tasks, like translations and filling out
welfare forms, has taught me one thing, it's that I can make a
difference. I want to translate my love for law to represent those
whose problems were once mine, whose voices are lost in the wind.
Spending my summer days interning at the nation's top employment
and labor law firm only confirmed this direction.
Adversity has taught me to see the faces of loved ones in strangers. But most
importantly, it's taught me that true happiness and profound
connections matter most.