Name: Tanner Earl Roness
From: Dillon , Montana
Grade: Freshmen in college
School: University of Montana Western
Votes: 0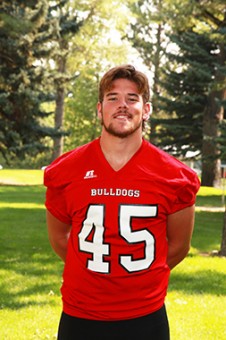 My name is Tanner Earl Roness, I am a student athlete at the
University of Montana Western. I am pursuing a Bachelor's degrees in
Environmental Science, while playing football. During the summer
months I have an internship for the Corp of Engineers as a laborer.
The internship is a four year program, and in order for me to keep it
I have to be enrolled in school and maintain a 2.5 GPA or better

When I graduate with a degree in Environmental Science I would like
to acquire a job with Fish Wildlife and Parks, Bureau of Land
Management, Corps of Engineers, or even go the law enforcement side
as a Ranger. If I were to pursue a job with FWP, given my skill set,
I would like to become a game warden. Since I already have an
internship with the Corps of Engineers if I go that route I would
already have my foot in the door which is a plus. Now if I were to be
a ranger I think I would enjoy the law enforcement aspect as well as
the outdoors and wildlife parts, so it would be the best of both
worlds. With this degree I most definitely have my options open.
The reason why I believe I deserve this scholarship is because my
family has a very low income to support me, my brother, and my
sister. That being said it is a struggle for me to make it through
college. I want to come out of college with the least amount of debt
as I can, and I am willing to go the extra mile to do so. As my first
year of college is coming to an end I have already help the community
of Dillon immensely, whether it be cleaning up the landfill, helping
and participating in fundraisers, taking down fence and also cleaning
up the W on the hillside, the list goes on.
As a student athlete I have to be dedicated and apply myself to my
academics and also my sport which is not easy. I am not the kind of
person who gives up on what they believe in, and I believe in a
college education. This scholarship would bring me one step closer to
being debt free when I come out of college, making that first step
into the real world that much easier.