Name: Yojana Thapa
From: Elizabeth, NEW JERSEY
Grade: 12
School: Elizabeth High School
Votes: 0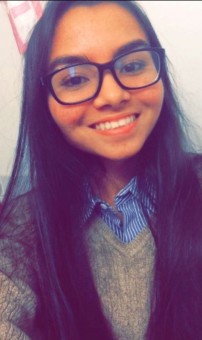 Heart thumping vigorously, foam gushing from his mouth like fountain water,
his body twitching frequently, all control was lost. Suddenly, his
heart stops, and fails to pump the essence of life. Doctors promptly
begin to hover over him, him who was just a corpse lying on the
hospital bed inches before me, lifeless, just another inanimate
object.
'Time of Death: 9:34 AM, Tuesday, August 18th, 2015.'
It was hard to contemplate a body that's lost its animation. His death
destroyed me, yet it ensured my mission, the ability to save the life
of another. After that day, I have lived my life squeezing the most
efficiency of my diminished and limited time.

I have dedicated my life to purpose and meaning, to serve the other, to
promote a positive change in the world. We are simply machines that
function with the sole intent of living a purposeful life. Not all
machines were meant to break, when they do, sometimes certain parts
can be fixed so that those machines can continue to live their
vivacious lives. I aspire to become the mechanic of life that fixes
them.
Throughout the summer, I experienced the life of such a mechanic as a Volunteer
at the Trinitas hospital, where I had the privilege of being in the
Emergency Room shadowing different Physicians and Nurses. I
volunteered 5 hours every week, and within these five hours I had the
opportunity to observe patients, store medical instruments, transport
patients, and take patients vitals upon request by physicians.
Volunteering at the Hospital has given a true insight on reality. It
gives me sense of happiness because I am contributing to the
community. It exposes me to many aspects of life and through it I
thrive and learn to become a better person.
When I had the chance to go back to Nepal during the summer of 2013, I
had the opportunity to be part of the Light Social
Foundation, in which I assisted in teaching parents about proper
nutrients that are imperative to the proper development of their
newborns. I volunteered every day for an hour for two months. The
biggest challenge I faced when volunteering was that I felt like we
couldn't make a big impact; there were only five mothers. When I
came back to America, my relatives from there informed me that the
whole community benefited from the program. Knowing that we
had only taught a small group of mothers, I was surprised that
it impacted the whole community. This experience signifies the power
of knowledge, and denotes that knowledge yields way for communication
and unity. I strive to make a big impact in my community back home in Nepal. The
reward that I wish to receive will assist me in my education in
becoming a critical thinker in this society. Spreading education and
knowledge is the key to have an impact in our society, and that's
what I wish to do.
Through Volunteering I have found my purpose in life.