Name: Staufon Damion Crawford
From: Capitol Heights, Maryland
Grade: Senior
School: Fairmont Heights High School
Votes: 0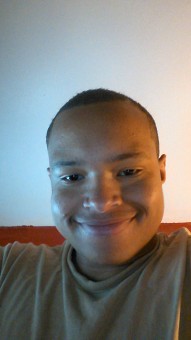 One program that I first joined is the 9th grade of the Hillside Workshop
Scholarship Connection. It is a program that prepares students to be
better in the area that you are lacking in.
I am grateful for having Hillside allowing me to participate
in different community service programs. I remember in my eighth
grade year we had to go to a thrift shop and organize different
clothes and shoes for the ones who were not fortunate enough to buy
their own clothes. We had to sort out different clothes and organize
them by their size. It was the best feelings I have ever experienced
due to the challenge I see in my community is homelessness. When I go
to a CVS or grocery store I see groups of people that are homeless.
We do not have many organizations in our community that helps the
less fortunate, to give a place to sleep, to have food and to have
the basic necessities. So when they see people who have a house, a
car and other stuff, their perception of us is that we are rich. We
perceive ourselves as being able to go to work, and pay our bills on
time. The homeless perception causes them to commit crimes, such as
robbing, stealing or possibly killing someone to get their personal
items. I love to participate in these nonprofit organizations where
you can give back to the community and allows you to think of life in
a different perspective.
The next program I joined is the Mock Trial also known as the Debate
Team. I first learned about the debate team when I was in the 11th
grade. I thought if I was to join this program I would be able to
have an understanding of how a trial works and things to consider
when I get older. My biggest inspiration for me going to law school
is my mother. She had so many machines connected to her body including life support to
keep her heart breathing correctly. She was able to wake up and was
very coherent. Then my father took my mother to Inova hospital where
she diagnosed with pneumonia and needed a blood transfusion what the
doctors at Inova told her. My mom then started to get sued by Prince
Georges County Hospital and Inova hospital for her blood transfusion,
treatment of pneumonia at Inova Hospital. Also paying for her
Diabetic DKA and diabetic coma at Prince Georges Hospital. My mother
felt as though she did not have to pay PG County Hospital because she
left the hospital having pneumonia and they did not notice, but my
mom could not afford a lawyer because they were asking for thousands
of dollars to defend her. Sometimes people that face challenges like
these that have to put their trust in someone. I want to be the
lawyer who do the right thing and does not just do it for the money