Name: Aysa Barginere
From: Linden, NC
Grade: aysabarginere@yahoo.com
School: aysabarginere@yahoo.com
Votes: 0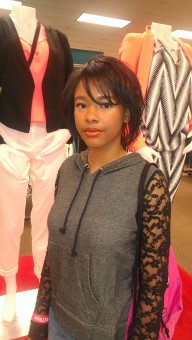 I chose to volunteer at the Fayetteville Cumberland County Parks and Recreation
Fayetteville Area Transportation Museum. I worked under Mr.
Great-House and Mrs. Hiedi, museum specialists. I chose to work there
not only because it wasn't far from my house, but it was an excellent
source of volunteer hours for my senior graduation limit. First it
started off during the summer to gain extra volunteer hours, but then
I started working on the weekends and helping out with the weekly
Saturday Market events that they would host. On a weekly basis I
would direct children throughout the museum, keep the museum tidy
inside and out, do inventory on specific museum artifacts, sort
papers and newspaper cutouts, old magazines and I even got to run the
Apex building a few times. Over the summer I gained over a total of
40 hours and once I started school it was a good 5 to 6 hours each
Saturday. Plus the days out of school that we get out for spring
break, I would stay all day those days. The biggest challenge was
accepting the fact that I had to leave at around 5 or 6 because these
people were really nice and I enjoyed their company. Just knowing
that I got to witness some of the these artifacts that were used long
ago with people that really trust me, knowing that helping them made
all the difference in their day makes me feel great. I've learned
that the past influenced what happens in the future and continues to
do so every moment that I live. Also never let go of those people
that you find in your life that makes everyday sweeter. Although this
isn't the career choice I had in mind it was still a lot of fun to
participate in. Forward-looking to me means that you're looking
towards better opportunities in the future, not necessarily leaving
the past behind you. More like taking it with you as experience, but
keeping your head towards the horizon. If I were to look back after a
few decades I don't think my volunteer activities would have made a
difference because people volunteer every day. I'd like to think the
impression that I've made on people have a greater affect than the
actions that somebody else with the same determination I had, could
have been.