Name: Oluwatomilola Adeyemi
From: Chicago, Illinois
Grade: High School Senior
School: Western Illinois University
Votes: 0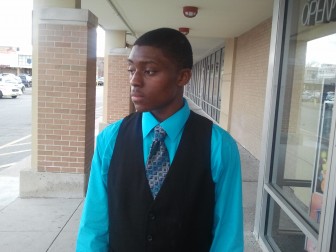 Volunteering can make a difference
Volunteering isn't for everyone, some people don't volunteer from the goodness
of their hearts. Those people only volunteer because they get
something in return. I believe those people don't understand the
true meaning of volunteer. When someone volunteers, they genuinely
want to volunteer, they're curious and want to learn more about the
cause for the volunteer, and they want to make a change in the world
and volunteering will create a path for them to change the world. I
chose to volunteer at Greater Chicago Food Depository. I wanted
change in scenery than what I was used to and I was curious about
what drives people to offer food to those in need.
Greater Chicago Food Depository is made up of regular citizens doing what
they feel is best for their community. The food depository is divided
into three sides of Chicago: the North side, the South side, and the
West/Suburbs. In the North side, there are different communities that
display their version of the depository. I volunteer at least two
times a month for three hours in a calendar year. I've volunteered
in various locations that are part of Greater Chicago Food
Depository. I've helped serve and prepare foods, and sometimes I
help with the food delivery. My biggest challenge as a volunteer was
watching people get their food and at the same time fixing a smile on
my face, especially when I would see little children come and get
their food because it broke my heart watching them get the food and
realizing the hard and sad truth in the world. Providing food to
those in need, has giving me the most satisfaction. From the
volunteer, I've learned that no matter how small a contribution is,
it can make a significant impact in someone's life.
I plan on enrolling at Western Illinois University and my major will be
Criminal Justice. Based on my time at Greater Chicago Food
Depository, I've witness little children without homes playing
around and enjoying themselves and I want to keep them safe. Also, it
was brought to my attention that homeless people have been targets of
murder, physical assault, and mental abusive. And I want to get
involve and hopefully decrease the attacks on the homeless.
I believe that I've made a difference in the world when I volunteer.
I often tell children younger than me to volunteer because they'll
enjoy volunteering. If I come back in thirty years, I do believe that
I'd made a difference and maybe, just maybe, the little kids, I
told to volunteer, would've volunteer and passed on the sprit with
everyone.
People who volunteer really interesting people, I met different who
volunteer and the reason why they volunteer are for all the right
reasons. And you will never know how volunteering can change the life
of the volunteers. One day, volunteering might seem as a causal
event, and the next day, it's part of your daily life.