Name: Faith Victoria Donze
From: Saint Albans, West Virginia
Grade: 12th
School: St. Albans High School
Votes: 410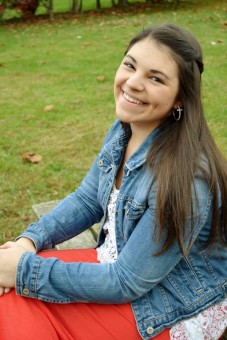 Volunteering in the Children's Ministry
The area I have chosen to volunteer in is the children's program at my
local church because making a difference in children's lives is a
passion of mine. I grew up watching my mother teach the younger
children at my church, which taught me how much the children look up
to their teachers and how much they learn from them. My mother
homeschooled me until high school. Her dedication to teaching my
brother and me has inspired me to become a school teacher.

When I was old enough to help in the children's program, my mother allowed
me to assist her in the class while she taught. As I helped I learned
how to become a good teacher. As time went on she let me teach under
her watch, gradually leaving more responsibility to me. For the past
year, I have been responsible for teaching 10 to 15 kids for about an
hour each Sunday. Each week I prepare a lesson plan and choose a song
for them to sing. Recently they sang one of the songs I taught them
for our entire congregation.  In April, I started a point system
where the kids compete by learning new verses and bringing their
friends, at the end of each month the person with the most points
wins a special prize.
During my service, I have been able to watch the kids grow and become more
mature in Christ. They have been able to learn about me as a person,
see the many flaws I have, and look past those and learn from them.
They have learned many new things about Christ and how to serve Him,
and shown me how to be thankful for the little things.
Being able to see the kids grow these past few months has been a blessing
for me. They have shown me the love and patience one must have for a
child. While teaching I have realized my biggest challenge is having
that amount of patience. During class, it has become apparent that
they look up to me, which helps me realize how many younger people
look up to those older than them. This has given me the utmost
satisfaction with being a teacher, and has reaffirmed the path I have
chosen for my future.  

From personal experience I know that children retain what they learn at a
young age for the rest of their lives. In 10 years most of the
children will be in high school, in 20 years most of them will have
graduated from college, in 30 years they may even have children of
their own. By giving my time I am able to lay a foundation they will
build upon for years to come. When I think about the changes I might
have fostered, I'm amazed by the impact I may have not only on this
generation, but on generations to come.