Name: Zaneera Maryam
From: Kingston, Ny
Grade: 11
School: Kingston High School
Votes: 0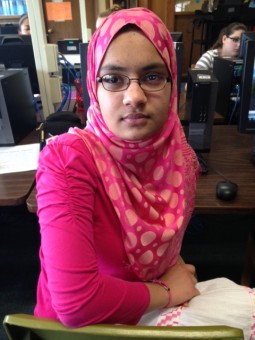 I was in the middle of my favorite movie and suddenly my dad came in
and was so excited. He said, "Oh my god, we are going to America!"
I wanted to come to America from Pakistan to get better
opportunities, higher education and the opportunity to become a
doctor. However, I was also nervous because the culture, people and
language were different from my home country. On my first day of
school, a girl named Katerin helped me a lot. She was with me in all
of my classes and tried to explain things that I didn't understand.
But now after four years I am able to help myself, and I can also
help those in need. I serve as a peer tutor because I feel like it's
my way to give back what I got. If nobody had helped me at that
time, then I would be really behind. I tutor students for two hours
per week, one hour with Liberty Partnership Program and one hour with
Kingston High School.
My responsibility as a volunteer is to make sure my tutees understand
what I explain to them. The biggest challenge that I have to face is
being able to explain what I already know and what they don't. I
get satisfaction when I see my tutees doing their work by themselves
and not needing anybody's help. I learned that when you have
responsibilities then you have to think about others too and before
you take any step you have to make sure your team is not left behind.
As a volunteer I help people to get from one place to another in
their studies. When I become a doctor, I will still help people to
get better but this time regarding their health. The activities that
I am doing now help me to build my skills such as being patient,
being able to communicate with people, explaining what I feel and
sharing my ideas. These skills help me now and will also help me when
I become a doctor. For me, forward looking means I am looking at my
future and my volunteering helps others to look at success in theirs.
The change that I see to foster in the world is to make people
realize that when you help others you help yourself.
If I were to return in ten, twenty or thirty years, my volunteering work
will have made a difference because the people who were not doing
well in school are now successful in their lives.