Name: Victoria May Szalay
From: Poland , Indiana
Grade: 11
School: Cloverdale High School
Votes: 125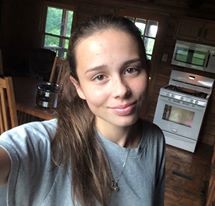 Nothing has been more beneficial or rewarding as the time that I have
volunteered to something more than myself. I have learned over the
last two years that very little acts other than dedicating your time
to others can hold so much compassion and significance in your life.
It can brighten your entire day or week, just knowing you lightened
someone's pain or shared her/his joy.
I began volunteering the summer of my junior year at Union Hospital
in Terre Haute, Indiana. My mother works as an ER nurse and she
informed my sister and I about the volunteer program. I became
immediately interested because I wanted to discover my interests as a
person, make a difference, and learn job skills. The volunteer
program at the hospital allowed my sister and I to pick areas of the
hospital to volunteer at for four hour shifts. I chose a nursing
floor, finance, information technology, and the front desk. My
decisions were based on my interests and where I thought I could be
the most productive. Cassie and I have volunteered 16 hours a week
during the last two summers.
My responsibilities at the hospital are very diverse. At the front
desk, I escort and help patients and families get to the area where
they need to go. I help anyone from future mothers in labor to
terminally ill cancer patients, which I have found to be the most
awarding duty I perform while volunteering. Serving as a guide to all
kinds of people has given me the opportunity to learn the value of
kindness and how a small act can open a person's heart and help
lighten it. My second favorite thing that I get to do at the
hospital is clean patients' rooms. I get to work with and assist the
hard-working housecleaning staff, whose kindness and selflessness
easily outmatch my own. I received lessons on how to take pride in my
work and in myself, for which I will be forever grateful.
Volunteering has given me experience and insight on to what I hope to
do for a living. When I first started volunteering, I had been
indecisive as to whether I should pursue a career in technology or in
the medical field. My time on the nursing floor and information
technology departments allowed me to see that there is a great amount
of pride in being the support for the hospital. It has given me a
"forward look" in that I can spend an insurmountable time
supporting computer systems while my gifts for staying effective in
emergency situations are lacking.
Volunteerism has instilled within me the value of hard work and the
rewards of helping others. It has given me ample opportunity to
explore my interests and to appreciate the innate kindness in
humanity that has so rarely been recognized. I thank Union Hospital
for allowing me the blessing of helping care for its patients and to
work alongside people that I respect and aspire to resemble someday.