Name: Dale Yanique Coburn
From: Longwood, Florida
Grade: Grade 12
School: Lyman High School
Votes: 0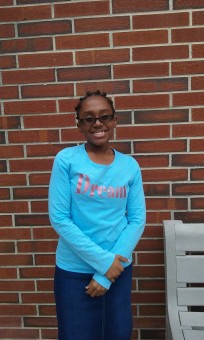 Why do I volunteer? Why do I give back to my community? The organization where I volunteer is
a non-profit organization offering hunger and disaster relief to
families in Central Florida. When I decided to volunteer, I did not
know where I wanted to volunteer or what area I wanted to volunteer
in. I checked different places and they told me that I could not
start right away. I wanted to start volunteer services immediately. I
was informed about Harvest Time International by someone and that I
could start volunteering right away if I chose to and that is where I
volunteered. I began volunteering in the summer of my junior year of
high school and at that time, I was doing 15-20 hours per week. When
school reopened, I began my senior year of high school, and I
volunteer only on Saturdays for 3-5 hours.

As a volunteer, I stack and organize shelves, place prices on items, sort items in
boxes and assist customers. As a volunteer, I don't face a lot of
challenges. When I began volunteering, the only challenge I had, was
standing all day but after a few days it became easy to do.
When I volunteer, I know I'm contributing to the growth and economy
of my community. While volunteering, I learnt commitment and
discipline. Volunteering has taught me how to interact with other
people who require my services. It exposed me to things that I'll
experience when I get into the working world. Volunteering provides
me with satisfaction because I know that I'm providing my services
free of charge and I'm giving back to my community. It has taught
me that I can receive satisfaction by providing services to others
without having to get anything in return. It exposed me to different
kinds of bosses, and what it will be like to receive instructions
from others in authority in the working world. I see forward looking
as being "what are my plans for the future". I want to continue
volunteering, attend college, and work a part time job. The change I
seek, is for people to be more thoughtful of others. People need to
see that everyone is not the same. Some people are willing to help
you without wanting anything in return. People need to realize that
they don't have to receive anything in return when they help
someone. In the future, I think my volunteer activities would make a
difference. Helping people to realize the importance of volunteering
would have a positive and tremendous effect on society. Peoples'
minds would be transformed, they would have a different approach
towards helping others, they would be more generous, they would be
kinder towards others and they would be more thoughtful of others. My
volunteer activities would also save money for the organization in
order for them to have the resources that they need and it would help
them achieve certain goals since I'm not paid. Volunteering is an
amazing opportunity.