Name: Yulissa Gonzalez
From: Rio Grande City , Texas
Grade: Freshmen
School: South Texas College
Votes: 0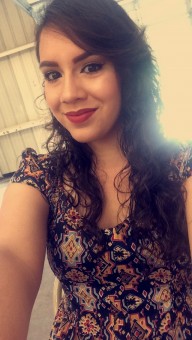 My volunteering experiences have been in the Relay for Life; a marathon
to walk for breast cancer survivors as well as in a rehabilitation
center and at the Starr County Fair. I choose to volunteer at this
place because I feel it's important to give back to the community
and help in any way's possible. I try to attend as many as possible
volunteering opportunities, that there is in my community. I have
recently completed 30 volunteer hours. My biggest challenge when
volunteering is to make sure I could impressively assist everybody
with any problems or questions that they have. In the Relay for Life,
a marathon to walk for breast cancer survivors, some of the
responsibilities were to support honor, and walk for loved ones who
were fighting or died fighting cancer and even made posters and
walked around with them to support the fight against cancer. . At the
Starr County fair I provided people with flyers with the schedules of
the events going on at the fair, and I helped assist them to the
correct entrance to pay to enter the rodeo as well as, any questions
regarding the rodeo.
As well I volunteered at a rehabilitation center. I would groom the
resident's hair and paint their nails. I was as well responsible on
making the residents feel happy and good about themselves and cared
for. The most satisfactions I have obtained by volunteering is making
people happy and having the pleasure when they are thankful for
helping them. I feel the most content when people are grateful, when
we go and join the volunteering events and give back to our
community. I have learned by my volunteering position that supporting
and giving back to the community is the best way to give back, and
appreciate everything you have accomplished within the community.
I have learned how to be grateful for all the things I have and never
take anything for granted. My career goals are to finish my LVN-RN
program here at South Texas College and become a Registered Nurse.
This will allow for me to work at a hospital and help individual in
need. Becoming an RN will as well give me the satisfaction of giving
back to the community. Community service has helped me give back to
the community and support people in need, through a generous gesture
of my appreciation to my life and accomplishments.
My career goal is to become an RN and I believe my volunteering will
give me a better advantage to help the people in my community for my
future job career. I can learn how to better speak and interact with
people within my community. Looking towards the future, I must
continue is to keep accomplishing my goals, keep being positive, and
keep trying till I get all my accomplishments done. Therefore,
looking toward myself is surrounding myself of positive people who
want to help me follow my education goals, become a great responsible
person, and give back to my community.