Name: Natecia Brown
From: Surprise , Arizona
Grade: High School Junior
School: Shadow Ridge High School
Votes: 19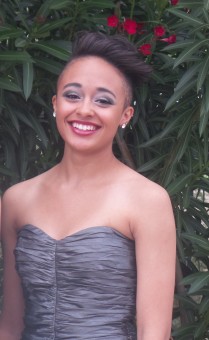 From a young age I have had a distinct fondness for children. I grew up as the oldest
child of six and would leap at any opportunity to help out with my
younger siblings. So when I found out a year ago that I was able to
volunteer in the children's ministry at my church I was ecstatic. I
signed up to help approximately 3 hours every week. In the beginning
it was intimidating seeing all of the rules and procedures that child
care entails, however after a few weeks I felt more comfortable in my
volunteer position. I frequently work with the infants as well as
toddlers. I enjoy interacting with the kids and watching their minds
work and absorb their surroundings. I am in charge of ensuring a safe
and fun environment for the kids while their parents are in service.
I do this by playing with puzzles and toys as well as dancing and
singing to songs. It fills me with immense joy when I see kids
laughing and having fun.
Through this experience I have learned that all children are different and need to
be treated as individuals. Understanding this allows me to help them
acclimate to a new environment. Through my volunteering I have gained
skills and tools to interact with children in different developmental
stages. A great lesson for me has been that, based on leadership
sometimes you have to adjust to a new way of doing things. I have
acquired the skill to adapt quickly from working in child care.
Forward looking means to do things in the present to help prepare for the future. My
hope is, my volunteer work with children will help prepare me for my
desired career in the Medical field. My exposure with parents and
children I believe will assist me in my interactions with families in
a hospital environment.