Name: Margarita Wainess
From: Buena Park, CA
Grade: Junior in College
School: Fullerton College
Votes: 14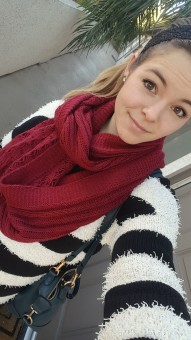 I have often looked at many people around me, wondering how they were
able to volunteer so much of their time and continuously be an active
part of a volunteering community. I felt like I could only ever find
out about activities that required my aid for just the day, and then
I was to move on to nothing. Then, one day, it just clicked. Why
should I force myself to only care about a select few issues, like
the poor dogs whom I'd walked and groomed on occasion at the
Priceless Pets Rescue, or only about the homeless, or racial
disadvantages? Why not take all of these issue and work in ways that
will allow me to better the lives of all of these negatively affected
groups?
Before you dismiss me as just another dreamer, I would like to reassure you that I did
not just merely dream about change. Soon after my epiphany, I got an
email inviting me to become a leader in our student government. Just
two weeks after being sworn in as a Student Senator, I was voted in
as Judicial Chair. Leading my committee, putting in hours of
volunteer work through school and community services, being a full
time student with an exceptional GPA, working 20+ hours a week to
support myself, and dealing with my family moving away was quite a
tough load. Yet, it made me that much more ready to conquer bigger
issues. I began working on amending our Student Senate Constitution,
greatly increasing advocacy and awareness of the campus community by
organizing events and being a representative on Student Equity,
Matriculation, and Accreditation Campus Committees, and pushing for
reforms for our food bank. I also joined the Psychology,
Anthropology, Sociology, and Phi Theta Kappa clubs, and helped start
our Student-Teacher Mentorship program. Recently, I went on to
represent our campus at the state Student Senate (SSCCC) General
Assembly, helped start the SSCCC homeless caucus, and have taken a
leading role in helping our campus and our state's community
colleges pass the bill allowing homeless students to use school
facilities, like showers, and hopefully creating transitional
housing. I believe these activities quite clearly demonstrate my
drive to implement the positive changes for which I so strongly
advocate.
Even today, when I am asked what my goals are, my answer is, "to make as much positive
change that will help as many people as possible." When you are as
passionate as I am about helping millions of people everywhere, it's
hard to settle on anything less. I've written statements and
speeches on ending capital punishment and the pressures of conforming
to gender and racial stereotypes, and will be working with Sacramento
legislators on passing the previously mentioned homeless bill. This
may not be the needed change for the whole nation or the world just
yet, but I think affecting the lives of thousands of students on my
campus and the homeless students throughout our state is a pretty
good start.