Name: Bridget Vander Hoff
From: Rochester, Michigan
Grade: sophomore
School: Oakland University
Votes: 0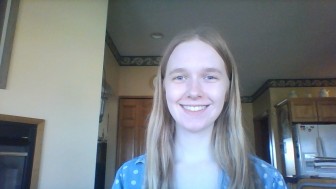 Oftentimes, when I am home from college, I like to spend my time
volunteering at a local school that I used to attend. I do not follow
any specific schedule, but it probably ends up being about eighty
hours per year that I spend with the children. I love helping out in
the classroom. I get to help the preschoolers through the
eighth-graders with their reading, writing, math, science, social
studies, art, gym, and tech, and supervise during lunch and recess.
I also help the younger students with craft projects, and I read them
stories. In addition to assisting in the classroom, I answer phone
calls and do paper work in the office.
As a volunteer, my biggest challenge has been trying to keep an entire class under
control. It can be difficult to make sure approximately twenty
children are quiet and sitting in their seats, but it is all worth it
when I get to interact with the students. One day during recess, the
younger sister of an old friend of mine hugged me and said
"Thank you for being here." Though it was a simple sentence, it
really meant a lot to me, and made me feel like what I was doing was
worthwhile. It made me realize how important simple companionship is.
I did not spend much time in that girl's classroom, and did not
help her at all with her schoolwork, but I feel good knowing that I
made a small impact on her life.
In the future, I would like to be a dance teacher, so working with
children will definitely prepare me for the future, even if I am not
volunteering in the same environment that I plan to work in. I see my
volunteering as "forward looking" because I am helping young
students with their schooling. Hopefully, my assistance will enable
them to do well and enjoy school, so they can go on to pursue their
dreams, whether that be furthering their education, the way that I
am, or immediately beginning their careers. I like to believe that in
ten, twenty, or thirty years, the children that I volunteer with
today will be leading happy, successful lives.