Name: Destyne Abrams
From: Denmark, SC
Grade: College Freshman
School: Voorhees College
Votes: 0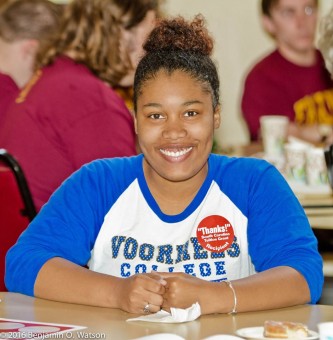 Volunteering is something that is very important to me. It is a way for me to show my
appreciation and give back to my community. I started volunteering
back in 2012 with Habitat for Humanity and have been ever since.
Considering the fact that I was a full time high school student
between the years 2012-2015 with a part time job and I am now a full
time college student with a part time job, I do not volunteer
throughout the school year, but I dedicate my summers to Habitat and
my job. With that being said, I would estimate my volunteer hours to
be 135-245 hours per summer.
Volunteering with Habitat for Humanity has been such an amazing experience. When I
volunteer with them, I either work in the office and handle some of
the paper work, clean up and rearrange the store, or go on site and
help build a house that is being built at that moment. My biggest
challenge while volunteering was when I was under the age of eighteen
and I was not allowed to go up on the roof to lay down the shingles.
However, my biggest satisfaction is getting to work with the family
that will be receiving the house that we are working on and watching
their reaction when they see their new home after it is finished.
Being a volunteer has taught me so much. It has taught me that I should never
take what I have for granted or never complain about things that I do
not have, because there is always someone who is less fortunate than
I am. I love volunteering simply because I love seeing joy on
people's faces. I like knowing that I helped someone who really
needed help