Name: Kennedy Chaney
From: Chicago, IL
Grade: 12th
School: Hales Franciscan High School
Votes: 0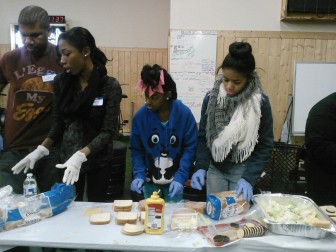 Volunteerism is a learned behavior
By Kennedy Chaney
I was born to parents who always made sure volunteerism was part of
their weekly agenda. Whether it's helping out at a shelter for
battered women and children, feeding the homeless or reading to
classrooms at various schools, my mother always made the time to give
back in every way possible.
She learned to be selfless and help those less fortunate by watching her
mother and grandparents do the same thing. It's only natural that
my younger sister and I continue the tradition.
Over the last decade we've tagged along, rolled up our sleeves and
helped out at countless feeding the homeless projects at various
churches, schools, shelters and corporate and community programs such
as Hashtag Lunchbag Chicago.
We've collected clothes, toiletries and books for several homeless and
battered women's shelters, along with toys during the holiday
season for children living in impoverished areas. When my mother
volunteered in a few schools during afterschool programs, I'd go
with her and after I completed my homework I'd go into the
classrooms of the younger grades and read to them until their parents
arrived.
My great-grandmother died several years ago and I remember enjoying all
the times we've visit her in the nursing home. In addition to
visiting her, I found myself wanting to get to know the other
patients as well. I increased my visits so I could build in time to
spend time with other patients who didn't get visits from relatives
or friends.
I vowed to go back to volunteering at a nursing home this summer before
I begin my college career. It always warmed my heart to sit down and
talk with my elders. I'm a lover of old school music and I'm sure
that will show them that although I'm young, we'll have something
universal in common. And, I hope they'll feel as though someone
cares more than they can imagine.
Also during the summer, I'll add another volunteer endeavor on my plate.
After my grandmother died a few years ago of breast cancer and it
tore me apart. It got me to thinking about children living with
cancer and what they must be going through. I saw first-hand how and
adult coped with it, but a child, it has to be worse.
I think being able to spend time weekly with pediatric cancer patients
will help brighten their day and let them know their peers are
standing with them.
I like to say volunteerism is a gene I was born with, but it truly is
just a learned behavior knowing my family's history and watching
them put things in action as I was during my childhood.