Name: LOVELESS DEANDRE GATEWOOD
From: KILLEEN, TEXAS
Grade: HIGH SCHOOL JUNIOR
School: KILLEEN HIGH SCHOOL
Votes: 0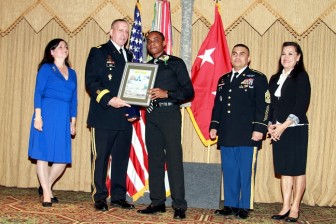 Volunteerism: I Make a Difference
I've volunteered for as long as I can remember. I currently volunteer at
my chapel, in my community and school. I started my path of service
at the chapel. I've served in the youth choir, mime team, usher
board and as a chapel youth volunteer. It began as a way for me to
offer my time to the chapel and to help out at holiday carnivals. I
now volunteer Friday nights and Sunday morning as the lead drummer
for the adult choir.
I enjoy serving at the chapel and for school sponsored events which I do roughly five
hours a week, but I spend the majority of my time volunteering with
the Youth Advisory Commission. I started with YAC freshman year to
earn hours for AVID. I wasn't expecting it to impact my life the
way it did. I now serve as a Youth Advisory Commissioner. As a YAC
volunteer I've had the opportunity to make an impact in my town. My
eyes are open to all the positive things n we do for the community as
well as to all the things that need to be done. I could spend my
entire day volunteering it would never be enough.
Volunteering has allowed me the opportunity of cooking and serving meals at the
homeless shelter and senior center. I've cleaned roadsides and
drainage ditches and marked inlets around town. I've spent
countless hours working community carnivals and fun runs face
painting and balloon twisting. As a commissioner we attend bi-monthly
meetings to stay on track with what is happening in the community and
to help determine where our services are needed.
I think my biggest challenge is having enough hours in the day. It's difficult
when events are happening at the same time to decide where I should
volunteer. My satisfaction comes in knowing I'm making an impact.
I may be picking up trash, peeling potatoes or manning a bounce
house, but I'm making a difference. I've learned it's the
little things that count and every little thing I can do to make a
difference, I commit myself to doing. No job I do as a volunteer is
any more or less than the other. I've learned my hours as a
volunteer are worth more than any paycheck I would earn at an
afterschool job.

Forward looking in reference to volunteerism means I'm helping
myself as well as my community to become better. Over time we are
both evolving because of the work I do as a volunteer. I don't know
if I've thought about how I'm changing the world, but I know in
my heart Killeen, Texas is a better place because of what I do and in
a small way, that makes the world better. I'm positive when I look
back years from now I will have made a difference. Volunteers are
helping our city financially, we're committing to making someone's
day brighter and we're bettering ourselves. I've already made a
difference!