Name: Autumn Hurd
From: Bridgewater, SD
Grade: Grade 12
School: Current High School Bridgewater-Emery HS, Attending Doane College in fall
Votes: 1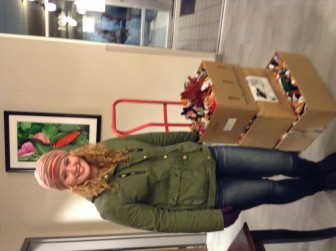 Warm Hands Warm Hearts Ease Frigid Temps
By Autumn Hurd
Seeing a child who is homeless and hungry breaks my heart. I founded the
Warm Hands Warm Hearts Campaign for the homeless of Sioux Falls,
South Dakota, to provide gloves, hand warmers, meat sticks, and snack
bars to aid in the problem of hunger and frostbite throughout the
frigid South Dakota winters. While distributing the warm hands warm
heart kits, I approached a homeless mother and her three elementary
age children. It affected me greatly to see the six-year-old girl
jump up-and-down and scream with joy to be receiving the kits. "Look,
Mommy…..Food!", she said. Thankfully, on this night they would
be sleeping at the Bishop Dudley Hospitality House in Sioux Falls.
However, they would need the hand warmers for the next day when they
would be exposed to 18 degree weather.
I became interested in the winter health risks of the homeless after I
was asked to attend a Hope Strategy meeting to discuss the people of
Sioux Falls's needs. I was inspired to organize a service activity. I
started a campaign called 'Warm Hands Warm Hearts' to improve the
health of the homeless in Sioux Falls. I started my campaign in my
high school and then I continued on to the community. My goal was to
get the students involved by encouraging donations of gloves,
hand-warmers, and granola bars. I was also accepting monetary
donations to buy the supplies. To get the word out, I spoke to ten
elementary classrooms and put donation jars in each room, sent
pamphlets to over 155 classrooms, sent emails to 85 community leaders
in Sioux Falls, and announced it in my church to over 1000 members.
In addition to my church and elementary schools, I put an ad on Life
96.5 radio station and sent a notice to all of the Lutheran churches
throughout South Dakota.
My goal for this project was to prevent frostbite for as many homeless
as possible and to educate people about the plight of the homeless. I
believe I accomplished both of these by leading this service project.
My hope is to have this campaign empower more groups of caring people
to let their passion do good things for the communities and people. I
hope it can be the gift of warmth that just keeps giving. No matter
how cold or rainy it is.
Now that it is spring, we have added new socks to the kits to help keep
feet dry. I have volunteered over 150 hours on this project alone and
have made over 500 kits. It takes a lot of time and energy; however,
doing what you are passionate about has to be a priority.
What I have learned most throughout the process of working with the
homeless, is that we are all too close to becoming homeless
ourselves. Many people I have met on the streets were just like you
and me. Many had jobs, families, and good lives until catastrophe
struck. Many homeless simply did not have the resources to bounce
back from these catastrophes. Not only has the volunteering helped me
look at my future differently, it has made me wiser to the world and
the people in it. They have touched my heart, especially the
children, as many of them still share a love for the people around
them even though they are the marginalized people who are looked
past.