Name: Eva Asumadu
From: Alexandria , Virginia
Grade: College Sophomore
School: George Mason University
Votes: 0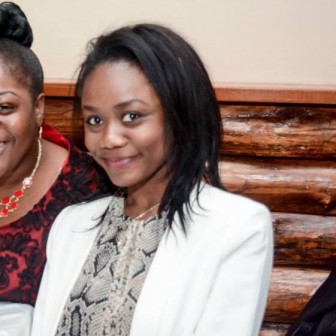 As a contributing member of society, it is imperative that we all commit
to volunteering to challenge poverty, inequality and promote positive
human relationship. Volunteering is not about money thus it requires
an intrinsic passion. After I witnessed my sister Jessica succumb to
a waterborne disease in Ghana, my intrinsic passion was tapped. I
knew I never wanted any family to experience such grief and pain as a
result of unclean water or lack of food. My way of grieving my
five-year-old sister was to make sure I could help out anyone
starving or in need. As a seven-year-old child, I would take money
from my mother's wallet and give it out to my neighbors and school
mates to buy food. Eventually, my parents caught on and I ultimately
had to stop for my own safety. Since then, I've had a passion to
help disenfranchised communities that me and my late sister Jessica
was once apart of.

In high school, I decided I wanted to save my
allowances and donate to charities like St. Jude's and The Water
Project. My commitment to clean water and vulnerable populations had
been consistent since I was seven and it was not ending. I was aware
every cent made a difference but I wanted see the difference I was
making. One day, I took action. In high school, I wanted to give
back to our disenfranchised community and so with the help of friends
and family, we planned an event at a local women's homeless
shelter. Thrive DC is an organization located in the District of
Columbia serving homeless women of all ages and colors. My friends
and I bought and disseminated goodie bags consisting of female
sanitary products, tooth brushes, soap, deodorant and other essential
products. We also cooked meals with the help of our parents
consisting of vegetarian lasagna, bread, sandwiches, rice, and soup.
Seeing the women enjoy our event and our foods was the ultimate
prize. I saw the change I was making. Even if it was temporary
change, I knew with the help of friends and family that I had fed 30
women for the day. I saw one less starving human and one more human
who had clean water and food that day.
When I got into college and I had to choose what I wanted to do with my
life. The choice was clear. It was clear the day Jessica never home
again. I chose to major in Global and Community Health to get
knowledge on crisis's affecting different populations around the
world and expand my knowledge on water scarcity, unclean water, and
foodborne illnesses. Currently, I will be starting an unpaid
internship with the Expanded Food and Nutrition Education Program in
the District of Columbia.
As part of my dedication to help disenfranchised communities gain access to clean
water and food, a goal of mine is to hold a donation event at my
college for The Water Project. This organization is very active in
the construction of water sources and has build hundreds of wells to
date to support poor communities that have been priced out of clean
water as a result of water privatization or other economic issues. I
am involved in the African Student Association and we plan to hold a
"pie" event in which students pay to pie a member of our
organization. All proceeds will be given to The Water Projects.